 Confirmation that all plans for a Perthshire windfarm have been dropped has been welcomed by local people.
The Scottish Government recently rejected the controversial proposal that would have seen nine giant wind turbines erected near the Sma' Glen, not far from Crieff.
Now the group behind the Mull Hill plan, Force 9 Energy, has said that it will not be challenging that decision, effectively signalling the end of the plan.
The story began in autumn 2003 when plans for a giant windfarm to be known as Abercairney were unveiled and subsequently refused at all levels.
Force 9 Energy then returned with revised plans for smaller clusters of 100-metre turbines, including its nine-turbine Mull Hill scheme.
It was again rebuffed but, as the wider Crieff community held its breath, the firm made an 11th hour appeal to Scottish ministers.
It claimed the council had failed to consider properly the potential benefits of the scheme, which it said included £22.5 million of investment for Strathearn and as much as £1.9m for a community fund.
The company asked for the council's decision to be set aside but, to the relief of campaigners, the Scottish Government threw out the appeal.
Now David Butterworth of Force 9 Energy has written to local campaigner Maureen Beaumont, confirming that the plans for the beauty spot are at an end.
"Whilst we obviously disagree with the decision, as regards to the merit of the project, we respect the manner in which the inquiry was held and the way that the reporter reached his decision," he said.
"We see no grounds for a legal challenge on that and will not be pursuing one.
"I think you will also be pleased to hear that we do not intend to pursue any alternative project at that location through a fresh application."
Responding on behalf of the community, Mrs Beaumont said: "We are delighted that there will be no appeal against the reporter's decision to reject the planning application for a windfarm at Mull Hill near the iconic Sma' Glen.
"This site was part of a previous application known as Abercairny. This represents, hopefully, the end of an 11-year battle to preserve the very special scenery of this part of Highland Perthshire.
"This is a victory for common sense these applications were opposed by local residents, Perth and Kinross Council, SNH (Scottish Natural Heritage) and their opposition was upheld at national level by Scottish ministers and their reporters.
"At a time when parts of Perthshire seem to be under siege by windfarm developers, it is encouraging that local democracy can prevail, but it can be a long, hard fight."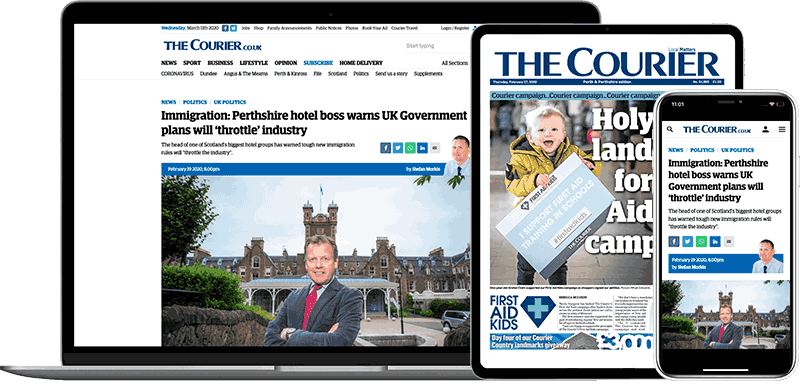 Help support quality local journalism … become a digital subscriber to The Courier
For as little as £5.99 a month you can access all of our content, including Premium articles.
Subscribe