 A Perth-based society whose members have scaled the world's highest mountains and reached the pinnacles of political success is celebrating its 130th anniversary.
One of the country's oldest charities, the Royal Scottish Geographical Society's (RSGS) staff and council members have made a huge impact on Scotland and the wider world with one, Lord Roseberry, even becoming Prime Minister.
The RSGS's fellows and medallists have traversed every continent, climbed every major mountain and range, navigated every ocean and crossed every desert on Earth.
They have followed rivers from source to sea, and walked, run, cycled, rowed and sailed around the world.
They have re-enacted epic boat journeys, protected wild animals and landscapes around the world and discovered medical cures and archaeological remains.
One designed Tel Aviv and another saved Edinburgh's Old Town from demolition.
The charity has funded and run more than 300 research expeditions, most notably the Scotia expedition to the Antartic in 1903.
Closer to home, the society's members and council have helped establish countless charities and organisations such as the Scottish Ski Club, Edinburgh Zoo, the National Trust for Scotland and the National Parks campaigns, as well as forums on flooding, geodiversity and most recently the campaign to retain earth sciences in the Scottish curriculum.
It was on July 21 1884 that 24-year-old Edinburgh map maker John George Bartholomew was walking in North Berwick with David Livingstone's daughter, Agnes Bruce, and persuaded her of the need for a geographical society. They, together with James Geikie, Edinburgh University's professor of geology, founded the group.
Today the charity is based in Perth's North Port and holds nearly 100 talks a year all over Scotland, works with Scottish schools and runs a visitor and education centre.
It also recognises the work of inspiring people such as naturalist and broadcaster Sir David Attenborough by awarding society medals.
"Having a good understanding of geography remains as vital today as it did when we were founded, and if we can make the next 130 as productive as the last, we can continue to inspire many more generations to come," said RSGS chief executive Mike Robinson.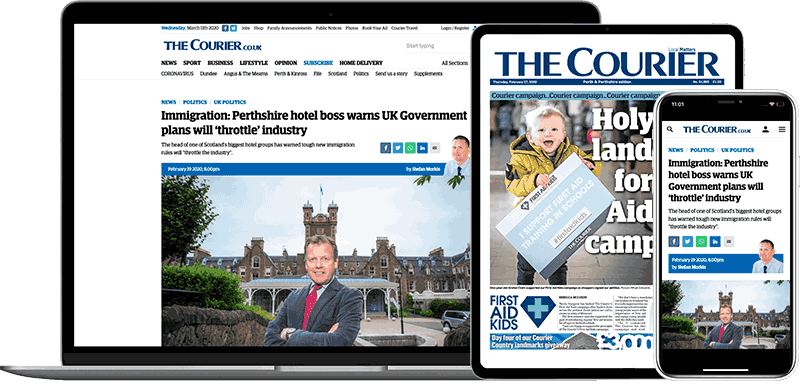 Help support quality local journalism … become a digital subscriber to The Courier
For as little as £5.99 a month you can access all of our content, including Premium articles.
Subscribe