 Flying through the Perthshire skies the silver objects winked in the evening sun.
Then as quickly as they were spotted the objects disappeared into thin air. Seven UFOs were seen by local man Ian Ford when they appeared above Dunkeld on Sunday night.
Mr Ford, who lives in Birnam, had gone for a walk with his West Highland terrier Harry when the mysterious aircraft materialised.
The 60-year-old, along with a nearby family of holidaymakers, watched in amazement as the silver "doughnuts" danced about the sky for several minutes before disappearing.
But before they vanished Mr Ford was able to snap a grainy photograph of two of the mysterious craft.
He said: "I was in the park in Birnam Woods at 9pm and I initially though it was skydivers or something like that coming down from the sky.
"They were discs flying in the air they weren't balloons or anything they were doughnut-shaped and the sun glinted off them as they manoeuvred. They were a beautiful silver.
"There was seven of them and some of them went quite quickly. A few went away into the distance and three stuck together. Two hovered above us for quite a while.
"I tried to get my iPhone to get a picture but it went all pink and funny. I did eventually get a couple."
He added that others has also witnessed the phenomenon.
"There were five or six people who were on holiday and they saw it too. They said 'I hope they're not going to harm us'," he said.
"There was a little tiny storm and one of the trees started shaking. It just seemed weird. Eventually they (the craft) raised up and disappeared.
"I wasn't scared I was intrigued. I've never seen something like that before I was watching for about ten minutes."
A spokeswoman for Police Scotland, Tayside Division, said they had received no reports of UFOs.
The Met office said they did not have any weather balloons in the area at the time and an MOD spokeswoman said there had been no military activity from either the RAF or the American air force in the region as neither group runs flying operations on a Sunday.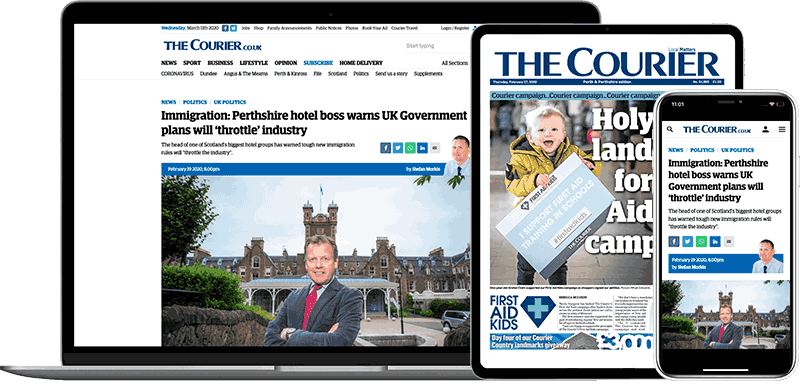 Help support quality local journalism … become a digital subscriber to The Courier
For as little as £5.99 a month you can access all of our content, including Premium articles.
Subscribe