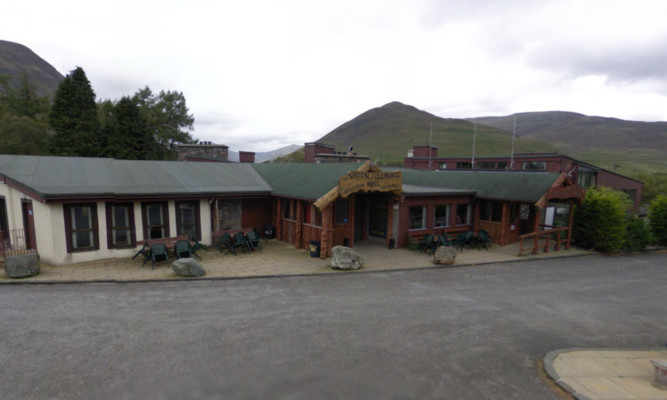 Around 50 firefighters spent more than three hours tackling a blaze which destroyed part of the remote Spittal of Glenshee Hotel.
The firebroke out around 4am on Monday and the wooden frontage, which once offered a welcome to weary travellers, was lefta smouldering pile of ashes.
Onlookers described how the flames took hold of the building, which wasunoccupied at the time of the incident, and some reported hearing "explosions" as fire ripped through the hotel.
Eight appliances attended from Scottish Fire and Rescue Service (SFRS) bases across Tayside and they managed to bring the blaze under control by 7.30am.
Crews ensured the fire was contained to one part of the building.Click here for a full photo galleryA SFRS spokeswoman said: "The front end of the building was well alight when we arrived and around 30% of the hotel had been destroyed.
"We used five hose reel jets and four sets of breathing apparatus."
Appliances remained at the hotel for much of the day to damp down the site and ensure the area was safe.
It is not yet known if it is being treated as suspicious but a joint investigation into the cause of the blaze will be carried out by SFRS and Police Scotland.
The Courier understands that thebusiness had recently changed hands and had not been trading for several weeks.
The incident has been described as"very concerning" by Perthshire North MSP John Swinney.
He praised the efforts of firefighters, saying: "It was very concerning to learn of the fire at the Spittal of Glenshee Hotel. However, it is clearly very welcome that there are no reports of any casualties.
"I would like to thank the numerous crews involved for their commitment andprofessionalism, which prevented even greater loss of property.
"The damage to the hotel appearssignificant, but I remain hopeful thatrepair works may be undertaken in a way which minimises any impact on thecoming winter sports season in this partof Highland Perthshire."