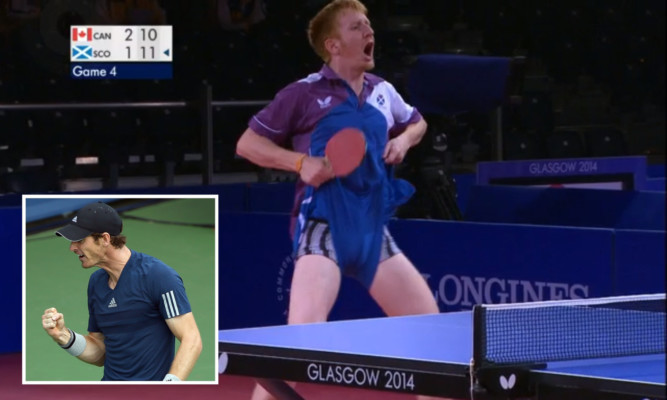 It raised some eyebrows and a few laughs at the Glasgow 2014 Commonwealth Games and now an unusual victory celebration could make it to the US Open.
Tennis star Andy Murray has hinted he might "do the Rumgay" after the move became an internet sensation during the Glasgow event.
Nine-time Scottish table tennis champion Gavin Rumgay struck the now-famous pose after claiming victory over Canada.
In what he described as a "spur of the moment" decision, he hauled his shorts up to reveal his underwear, much to the delight of the home crowd.
Now spectators at the US Open can look forward to catching a glimpse of Murray's undergarments if he does follow in the footsteps of his fellow sportsman.
He posted the video of Rumgay's celebration on his Twitter page, saying: "This is how an old tennis friend who me and my brother used to practice with celebrates.
"Might try it at the US Open."
The UK No 1 also shared a song written by Keith Meisner, called "Do The Rumgay", which aims to raise money to help Rumgay host table tennis camps for children in his home town and inspire a new generation of Scottish players.
Rumgay, who is originally from Perth, told The Courier he was "intrigued" to see if his old friend would actually pull off the unique move.
He said: "I know the Murray brothers very well and it's great that Andy is hopefully going to do the celebration if he wins the US Open.
"It was just a spur of the moment thing because I wanted to do something a bit different in front of the home crowd.
"It was a bit crazy at the time but the audience seemed to appreciate that."
The Scottish No 1 was given another opportunity to show off his pants during a tournament in Liverpool at the weekend and once again, he was met with cheers.
He now hopes his strange celebration will help raise the profile of table tennis across the United Kingdom.
Rumgay added: "We need one or two characters to try and bring table tennis forward because it's a minority sport here."