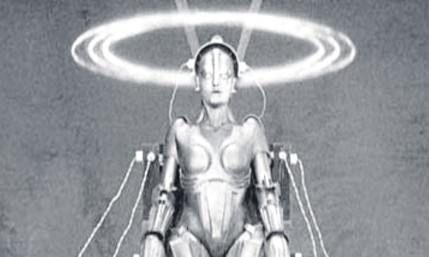 A classic silent film is to be screened in Perthshire with a new musical score.
Metropolis was released in 1927 and, as with most films of the era, was originally accompanied by a live performance on piano.
Comrie-based pianist Dmytro Morykit has composed an entirely new piece of music to be played during a showing of the iconic German expressionist movie.
He will play live for the full two-hour running time of the film when it shows at the Strathearn Artspace in Crieff on Friday night.
Dmytro said he composed the music as he was "not too fond" of the original 1920s score.
"It got me in touch with a lot of music that I've written over the past 30 years," he said.
"I've remodified it to go with the film. It's been quite tiring I've done it in chunks over the past few weeks.
"It has run musically so it makes sense with the film, so it's quite a long process.
"It's something I love doing I like putting my music to a visual but this particular visual is such an iconic film."
He added: "Depending how big the audience is and how they respond, it (Friday's performance) should be quite exhilarating."
Strathearn Artspace trustee David Campbell said tickets for the screening were being snapped up by people of all ages.
He said: "We are hoping we will get a real cross-section, from people who are interested in classical music to people who are interested in classic films.
"The people we have sold tickets to already seem to be a mix of older and younger."
Set in a dystopian future, Metropolis focuses on a gigantic hi-tech city, ruled by the rich and powerful. Underground workers live a slave-like existence, toiling constantly to operate the machines that provide the city's power.
A young woman preaches the virtues of love and reconciliation but the rulers make a robot double of her in order to cause dissent among the workers.
The workers eventually turn on the robot, burning it, and both populations are reconciled.
Tickets for the show are available from Hansen's Kitchen and the post office in Comrie, Strathearn Artspace and Strathearn Community Campus and cost £10.