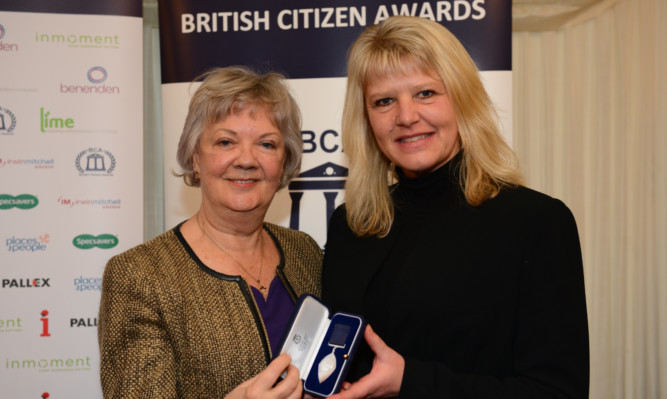 An inspirational Perthshire teacher who recovered from a broken neck to continue 30 years of charity fundraising has been recognised with a national honour.
Ali Kinge, 45, has received a British Citizen Award for her services to volunteering and charitable giving.
Ali, of Perth, has dedicated 30 years to fundraising for local and national charities, using her role as a teacher at Ardvreck School to encourage others to follow suit.
However, her fundraising hasn't always gone smoothly. While training for the London Marathon in July 2013, she was involved in a horrendous cycling accident where she had to be airlifted to hospital.
Ali's injuries included a broken neck, back and nose, and at one stage she was told that she may never walk again.
After spending weeks flat on her back in hospital, and several months in a full body cast, Ali made a full recovery and returned to work that September, determined to fulfil her teaching responsibilities.
To try to make some good out of a bad experience, Ali organised a party in celebration of her recovery.
She asked guests to donate to a charity close to her heart, Scotland's Charity Air Ambulance, without which she realises that her injuries may have left her paralysed.
Still determined to take part in the London Marathon, Ali slowly resumed her training and successfully completed the event in April 2014 for charity PHAB.
Now entering their second year, the British Citizen Awards (BCA) were launched in January 2015 to recognise exceptional individuals who work tirelessly and selflessly to make a positive impact on society.
Ali said: "I was shocked and extremely flattered when I found out I had been nominated for a British Citizen Award, but I didn't think anything would come of it.
"I am grateful and touched to receive this honour. I never dreamed of receiving any kind of award for my charitable activity there are so many other deserving people.
"I am indebted to my friends and family who continue to support me in all of my fundraising challenges."
Ali was nominated for a BCA by Shelagh Illingworth, who has been a colleague at Ardvreck School for nine years.
Shelagh said: "As soon as I heard of the British Citizen Awards it was obvious to me that I had to nominate Ali for an award as she is completely selfless.
"The fundraising and volunteering work Ali has done for many charities over the years is incredible, and she has inspired many others, including her pupils, to get involved and do something positive for others less fortunate."