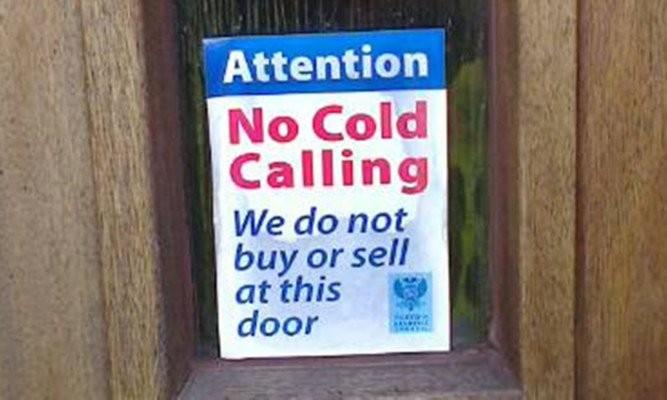 The family of a Perthshire pensioner have lodged a complaint with trading standards after a company ignored a "no cold callers" notice.
The couple described the sales call to the man in his eighties, who suffers from Alzheimer's, as "despicable and immoral".
The incident, in Strathearn earlier this month, has left him upset and distressed said the family.
"Two canvassers persuaded my vulnerable, frail father-in-law who has Alzheimer's and needs carers three times daily that he requires work to the roof of his 20-year-old house to make it weather proof," said his son-in-law. "This was despite the fact there is a sign on his door stating 'no cold calling'. "
An appointment was made for a salesman from the company to call the next day when the pensioner agreed to spend £3,250 on roof work.
"The discussion got as far as requiring bank details, and only when my father-in-law couldn't find his bank card in his wallet did the meeting end," he said.
The man contacted his daughter in a "distressed" state.
The couple contacted the firm involved who said they "take great care in what we do at any time to not cause alarm or distress to anyone, especially the old, infirm or vulnerable" but said their canvassers were sometimes "blind" to cold calling signs.
They apologised for any distress caused and said they would speak to the staff involved.
Perth and Kinross Council said issues of doorstep salesmen were a concern and confirmed that their trading standards were looking into the case.
They said: "Protect yourself by displaying a 'no cold calling' sticker. If a caller claims to be from a company, call that company on a phone number found in the telephone book to verify they are who they say they are.
"Do not let anyone in to your home if you have any doubts at all. Do not contract with a cold caller. If you require work carried out Trading Standards advises residents to get at least three quotes and to use a reputable tradesman by asking friends and relatives for recommendations or by using a local trader who is a member of the Perth and Kinross Better Business Partnership trusted trader scheme."
A member list can be found at www.pkc.gov.uk/bbp or by contacting the service centre on 01738 476476."
Anyone with concerns about doorstep callers is asked to contact Trading Standards through the helpline, 03454 04 05 06.