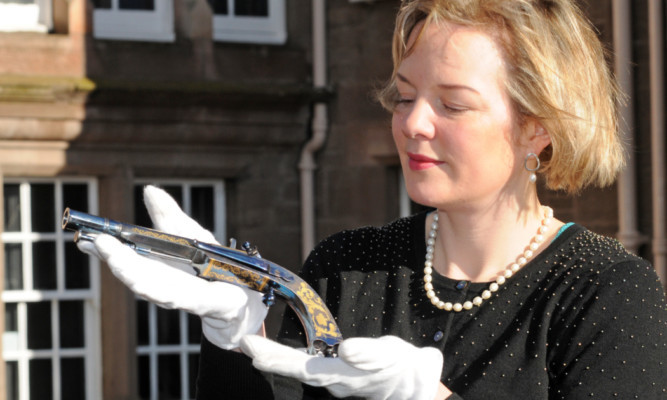 A pair of valuable pistols which were presented by the people of Perthshire to their MP proved a popular draw when they went on display in the Fair City.
Expected to sell for £20,000 to £30,000 when they are auctioned by Bonhams in Edinburgh next month, the pair of Highland gold-inlaid flintlock belt pistols were part of an exhibition in The Black Watch Museum which ran alongside a valuation day by the auction house.
Experts from Edinburgh were joined by colleagues from London in seeing a stream of people with items for valuation in return for a donation to the museum.
"It has been a very successful day," said auctioneer Charles Graham-Campbell of Bonhams.
He estimated that upwards of 50 people had brought in a variety of objects.
"We had a Military Cross grouping which would be worth a five figure sum and some valuable jewellery," he said.
The visitors also enjoyed viewing the items which will be sold on April 12/13.
The stars of the collection were the pistols presented to the Marquess of Breadalbane by the electorate of Perthshire in 1836.
John Campbell, 2nd Marquess of Breadalbane was born in Dundee in 1796 and was educated at Eton. He sat as Member of Parliament for Oakehampton from 1820 to 1826 and for Perthshire from 1832 to 1834, the year entered the House of Lords.
He was Grand Master of the Grand Lodge of Scotland between 1824 to 1826, elected a fellow of the Royal Society in 1834 and made a Knight of the Thistle in 1838. The following year he was appointed Lord-Lieutenant of Argyllshire.
It is expected to sell between £5,000 and £7,000 when it comes under the hammer.