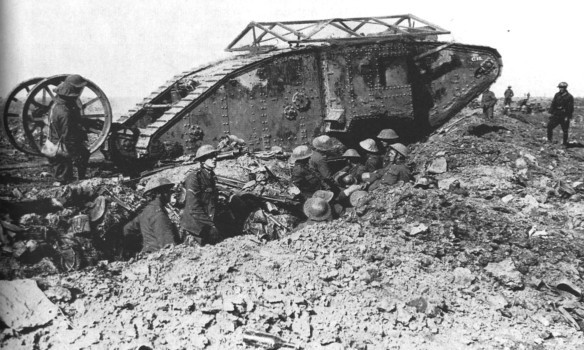 When Britain's prototype tank nicknamed Little Willie rolled off the assembly line in 1915, it was far from an overnight success. It weighed 14 tons, got stuck in trenches and crawled over rough terrain at only two miles per hour.
Even by the time the second prototype Big Willie made its debut at the Battle of Flers-Courcelette in France on September 15 1916, the armoured vehicles were hot, unwieldy and suffered regular mechanical malfunctions on the battlefield.
Yet the potential of tanks to end the stalemate of trench warfare had been recognised, and by 1918, its role alongside infantry, artillery and air power was helping turn the tide of the war.
So perhaps it's not a surprise that when a tank called Julian visited Dundee in February 1918 as part of efforts to raise money for the war effort, its arrival was met with anticipation by a war weary public who simply wanted hostilities to end.
Tank banks were a novel way to raise money organised by the War Savings Committee, and of six tanks which toured the UK, Julian was the one which came to Scotland.
When Julian came to Dundee, everyone, including school children, was encouraged to put money in the tank or to buy National War Bonds and War Savings Certificates from the tank to raise money. Dundee and surrounding districts raised over £1,000,000 in a single day.
And yet according to Perthshire-based historian Mike Taylor, when a tank was gifted to the city after the First World War, it was soon regarded as a blot on the landscape and later removed.
It's less than a year since the mystery surrounding the tank gifted to Dundee was solved thanks to a chance find in a newspaper archive.
Mr Taylor had been trying for years to find out the history of the Mk IV fighting machine, without success.
The vehicle was one of dozens gifted to communities across the country at the end of the conflict to thank them for raising money for the National War Savings Appeals.
Many were scrapped several years later, and today only one remains at Ashford, Kent.
The Dundee tank arrived in the city in August 1919 and was towed to Dudhope Park, where it remained until it was scrapped in 1930.
Similar tanks were also scrapped having been gifted to St Andrews (parked on the cliffs above St Andrews Harbour) and Perth (parked in Tay Street before being moved to Craigiebarns).
The Dundee tank's battlefield past was lost until Mr Taylor found a key piece of evidence in a contemporary article in the Evening Telegraph. It had seen service at Cambrai in 1917.
It's tanks that form the basis of a free talk Mr Taylor, 62, will be putting on at the Rothes Halls in Glenrothes at 7pm on Thursday November 12.
Tanks and the Great War will follow their journey from wonder weapon of the First World War, to fundraiser, to the scrapheap. Starting with development and use on the battlefield, he will explore the way tanks caught the public's imagination, and plummeted from a potent symbol of victory to an embarrassing reminder of war.
A geologist by profession, Mr Taylor spent most of his career with Perth Museum and Art Gallery.
But taking early retirement in 2006, he moved to part-time museum work in Edinburgh and also completed a Masters' Degree in First World War Studies.
He told The Courier: "People have an image of tanks and it's largely based on what they see in World War Two footage, really fast big tanks cruising open spaces.
"In the First World War the tank was developed as a means of breaking the stalemate, of getting across No Man's Land in the face of machine gun fire.
"The British press at the time painted tanks in a very positive light against cowering Germans, but the reality at the start was that the Germans quickly realised that if you put a few field guns in front of it you could destroy it. Some of them wouldn't stop a bullet."
As production increased and reliability improved, they were used in greater numbers.
By the summer of 1918 they were a common element of British fighting methods, with around 2,600 tanks manufactured. But even by the end of the war, despite armour, they still couldn't stop a shell and were no faster than walking pace, making them an easy target for artillery.
"By contrast, Germany lagged behind as they didn't see the tank as a threat. But the success of the British tank came when they were used alongside artillery, troops and aircraft, and ultimately helped Britain and the Allies win the war."
*Tanks and the Great War, a talk by Mike Taylor, takes place at the Rothes Halls, Glenrothes, at 7pm on Thursday November 12. To book, or for more information visit www.onfife.com/fifesgreatwar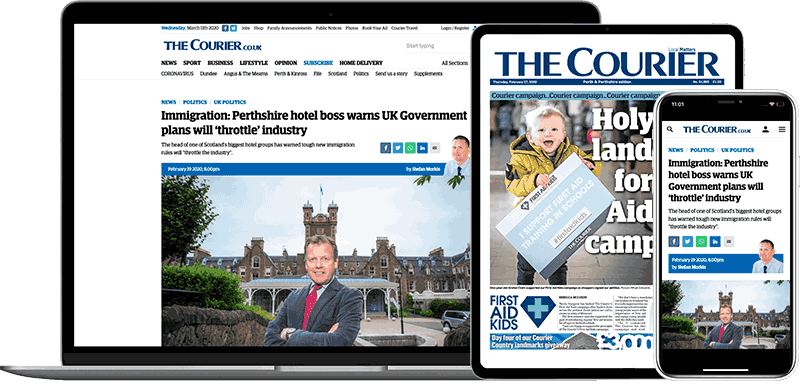 Help support quality local journalism … become a digital subscriber to The Courier
For as little as £5.99 a month you can access all of our content, including Premium articles.
Subscribe