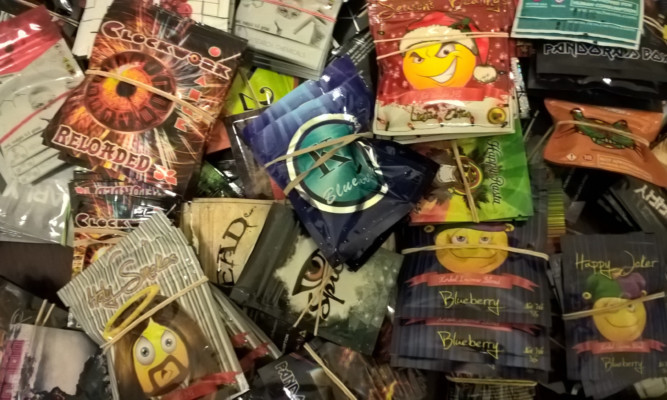 More than 500 legal high products were seized from two Perth shops during raids last week.
Around 50 varieties were confiscated when police and Perth and Kinross Council's trading standards team took part in national activity trying to put an end to the sale of dangerous new psychoactive substances (NPS) known as legal highs.
Action was taken after growing evidence showed the harm that unsafe NPS products can cause to people who consume them for their psychoactive effects.
In total across the country, 53 premises were targeted over 19 local authorities, with 7,323 products seized or sampled worth £146,460.
In Perth and Kinross, two premises were visited, with 535 NPS products of 56 types seized or surrendered, worth an estimated £6,000.
One of the stores raided was This N That on County Place, which has been the target of demonstrations from campaign group Perth Against Legal Highs.
Perth and Kinross community safety convener councillor Douglas Pover believed the local action was positive news for the area.
He said: "As a result of our trading standards team's work, a significant quantity of NPS has been taken off sale in Perth and Kinross.
"One of the shops staff visited has now indicated it will no longer sell these chemicals and the other has ceased trading entirely.
"NPS present a real risk to people's health and wellbeing, so, ahead of the national ban on their sale, I am pleased that we have played our part in protecting residents from the harmful effects that these so-called 'legal highs' can and do cause."
Despite packets being marked 'Not for Human Consumption', there are claims sellers are aware their products have no real use other than to be swallowed, smoked, inhaled or injected and are knowingly sold for those purposes.
Consumers face serious risks to their life and health from untested products that are deliberately designed to mimic the effects of classified drugs such as cocaine, ecstasy, cannabis and LSD.
A spokesman for This N That told The Courier that, following the raid, they were now concentrating on other aspects of the business.
He said: "The police and trading standards took everything and we are no longer selling legal highs.
"We are now concentrating on selling vaping products."
The campaign, codenamed Operation Alexander, was funded by the Scottish Government and jointly co-ordinated by Trading Standards Scotland and SCOTSS (the Society of Chief Officers for Trading Standards in Scotland).