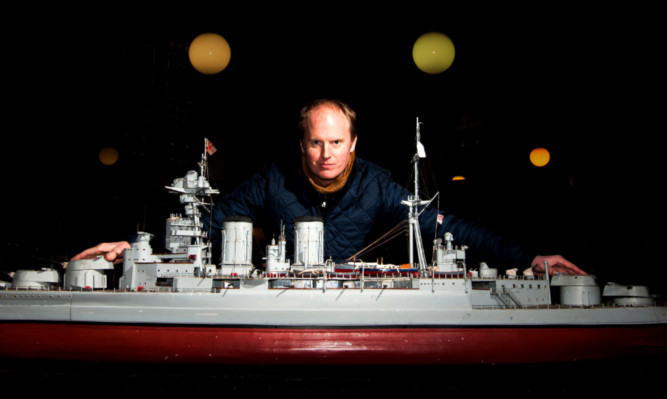 As heir to a shipping company fortune, the late Sir James Cayzer really did have it all a castle, a collection of Rolls-Royces and some of the most expensive "boys' toys" that money could buy.
Now his most treasured possessions, including a remote controlled 8ft long battleship and a sound system housed in an Asprey walnut trunk, are coming up for auction.
Following his death, Kinpurnie Castle at Newtyle which was the home of the Cayzers for 100 years was sold.
The contents were removed by Nick Burns and his team from Lindsay Burns Auctioneers in seven furniture lorry loads to be sold in Perth.
Items from "below stairs" at the castle have already been auctioned off and on Tuesday and Wednesday the cream of the contents will be sold at the King Street auction house.
"Sir James was a man of wealth, taste and style," said Mr Burns. "It has been a privilege to handle the contents of the castle."
The model of HMS Hood which has a motor to power the vessel and move the gun turrets and a smoke generator to belch fumes from the funnels was sailed on a loch on the estate.
The castle contained a number of items of naval interest, including watercolours of battleships and a small cannon in the hall.
Interest in HMS Hood however seemed to have waned as it was found tucked away by Mr Burns.
"It was languishing in the old kitchen quarter covered in dust," said Mr Burns of the vessel which has a pre-sale estimate of £300 to £500."
The Asprey sound system has a modest estimate of £500 to £1,000 considering that it is believed to have cost upwards of £15,000 when bought new around 20 years ago.
The two-day auction reflects every aspect of the life of the Cayzer family home from furniture, clocks, mirrors, paintings, works of art and unique oriental rugs.
Items from the castle nursery, including a Victorian dolls' house and a rocking chair, are up for sale alongside everyday items such as wines and spirits from the cellar.
"In the castle the paintings looked smaller because of the size of the rooms but when removed it became apparent how big they were," said Mr Burns.
The sale takes place on Tuesday and Wednesday and is on view on Sunday (1pm to 3pm) and Monday (9am to 5pm).
Bidding is expected from around the globe via the internet.