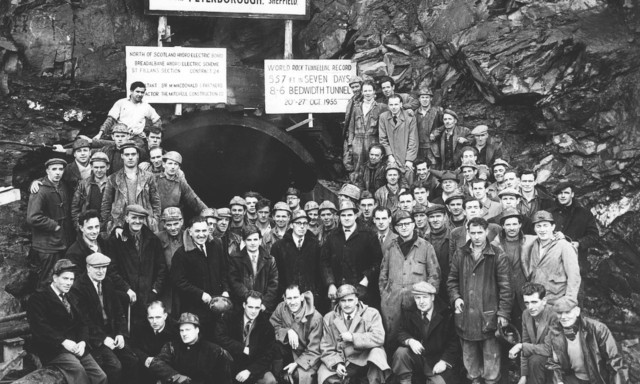 Deep beneath the earth they toiled.
Using only pick axes and dynamite they worked at the solid rock face before their eyes.
Despite having only the most basic of equipment at their disposal, the group of 42 men took just seven days to reach their goal, establishing a new world record in the process.
Today the hardy band of workers is known as the Lednock Tunnel Tigers, and the record they smashed on the outskirts of a Perthshire village would remain undefeated for a decade.
While building the St Fillans section of the Breadalbane Hydro scheme the men ground through 557ft of rock the equivalent of the height of Blackpool Tower between October 20-27 1955.
Three crews of 14 men worked round the clock to complete this section of the dig and received a £20 bonus £2,000 in today's money in recognition of their achievement.
However, conditions were often dangerous and difficult, resulting in some losing their lives and others suffering life-changing injuries.
Sixty years on from the historic event, SSE has announced plans to design and install a commemorative plaque at the tunnel entrance and is encouraging people to share their memories of Scotland's hydro heritage.
Gillian O'Reilly, head of heritage and community programmes, said: "The achievement of the Tunnel Tigers is an important chapter in the story of how SSE brought electricity to the Highlands and it is important that their tireless work and sacrifice is not forgotten.
"We know there will be many people in Scotland with own stories and memories and we would encourage people to get in touch and share those with us as we celebrate this historic milestone."
The feat of the Tunnel Tigers has also been formally recognised in the Scottish Parliament in a motion raised by Murdo Fraser, MSP for Mid Scotland and Fife.
SSE recently opened a new archive at Pitlochry Dam and the firm has also announced it is investing £4 million in a new visitor centre overlooking the dam, due to open next autumn.
To share your Hydro Heritage memories, email heritage@sse.com.