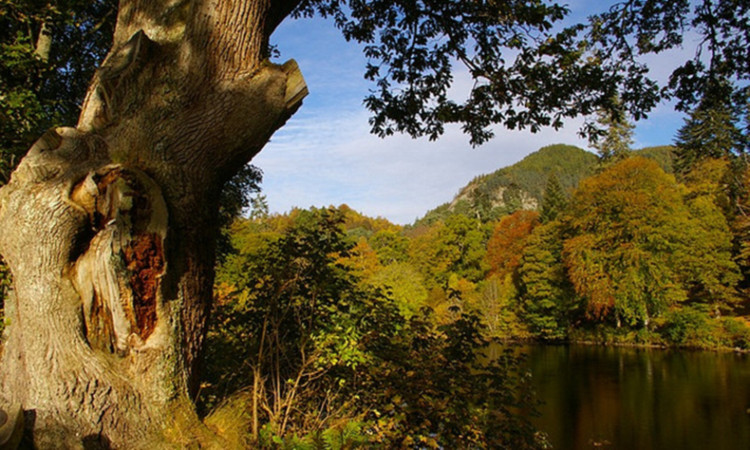 An ancient Perthshire oak under which many of Scotland's most famous fiddle tunes were composed has become the nation's first-ever nomination in the European Tree of the Year contest.
Niel Gow's Oak, on the banks of the River Tay just outside Dunkeld, is said to have inspired Scotland's most famous fiddler to create some of his finest works.
Gow who stayed in Inver, near Dunkeld, was best known for his tunes Niel Gow's Lament to his Second Wife and Farewell to Whisky but many of his compositions are still played today at concerts and ceilidhs right around the world.
During his life, his patron, the fourth Duke of Atholl, could often be found on the opposite bank of the river in the grounds of Dunkeld House, listening to the music as it drifted across the water.
A bench has been installed in the shadow of the tree inscribed with a lyric from Michael Marra's song Niel Gow's Apprentice, which pays tribute to the large legacy Gow left to Scottish music.
Rory Syme from the Woodland Trust Scotland said: "Niel Gow's Oak is a perfect example of a tree that has a great story to tell and a real connection with people.
"It's fantastic to be able to sit under the oak and experience the same sights and sounds that inspired such beautiful music.
"The tunes which were written under the tree have been exported all over the world and we're sure the folk music community will get behind the entry in a big way.
"By celebrating Scotland's best loved trees and the links they have with local people and history, we can help to ensure their protection."
Members of the public will be able to vote for the oak throughout February 2014 in the finals of European Tree of the Year.
The Perthshire oak is the first Scottish tree to have been entered in the annual competition and it is hoped its story will help its bid.
Niel Gow's Oak will be up against trees from European countries including Wales, the Czech Republic, France and Bulgaria.
It has been entered into the contest by the Woodland Trust Scotland ahead of a public competition next year to find Scotland's best loved tree.
Scotland's Tree of the Year will be open to any individual tree which has a great story to tell, with the competition set to be launched in March.