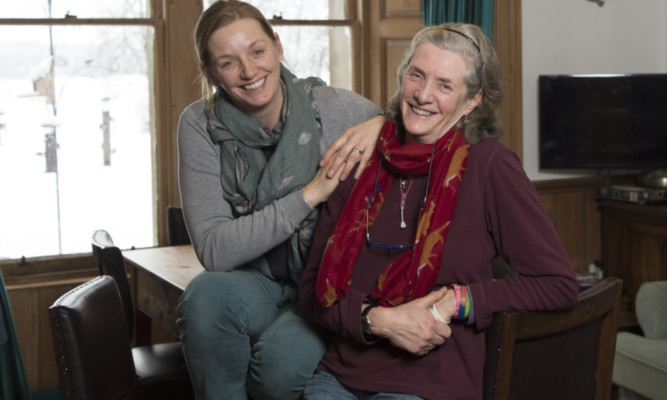 Ahead of a BBC documentary, MICHAEL ALEXANDER speaks to 'Lady Laird' Mrs Emma Paterson about the challenges of running her Highland Perthshire estate.
Striding through the heather high on the hills of her 18,000 acre Highland Perthshire estate, Mrs Emma Paterson is in her element.
"The whole of this corrie actually belongs to us, "she reveals as she raises her binoculars to track a herd of wild deer roaming across the stunning landscape.
"It's a beautiful stalking corrie. Looking over the other side at the valley going out there is what my grandfather called the 'Valley of the Bones'. I think he named it that because it was quite a long walk before the hill road and they reckoned that by the time they got there, there would be nothing left apart from the bones!" she laughs.
Scottish Highland estates used to be known as the playgrounds of the upper classes, and traditionally it was a man's job to look after the country pile.
But the landscape is changing.
Not only are some estates having to diversify their income streams, but more ladies are also taking up the reins.
In the first of a two-part documentary airing on the BBC tonight (Monday March 7), and featuring four estate owners, Mrs Paterson gives a revealing insight into life as one of these so-called Lady Lairds.
The cameras follow her and her family around Highland Perthshire's Auchlyne estate, between Killin and Crianlarich, revealing the trials and tribulations of managing an age-old estate in the 21st century.
Filmed around the opening day of last year's grouse shooting season, the documentary gives an insight into the traditional nature of the estate where sheep and cattle farming along with fishing and deerstalking are the main sources of income.
But whilst Mrs Paterson shows her resilience by getting on with the traditional jobs, her husband Henry works as an architect to make ends meet. With growing running costs and only a limited income available from the estate, daughter Nicola Colquhoun, who will one day take over the estate, is looking for ideas to secure the future of her childhood home.
She's just moved back from India with her brood husband Angus and children Maya and Archie – and fancies diversifying by introducing glamping pods on the grounds for tourists.
In an interview with The Courier ahead of the documentary, Mrs Paterson, 63, said she had seen many changes during her life on the estate.
But she insists the stereotype of a "Downton Abbey" lifestyle in the old days with servants waiting on the family hand and foot was misleading.
She said: "Both my parents lost older brothers in the war. They inherited properties which they might otherwise not have done. My mum was gifted Auchlyne for her 21st birthday!
"I lived permanently at Auchlyne until I was eight. But after that we split our time between my father's estate at Argaty in Stirlingshire and Auchlyne. I lived permanently at Auchlyne until I was eight. And thereafter we lived down there from November to July and came up here for the grouse shooting from July onwards."
Mrs Paterson, who took over the estate full time after her late-mother had a stroke, said there was now a definitive need to "think outside of the box" when it comes to estate management. She said her mother, who featured in a similar BBC documentary 25 years ago, would "throw her hands up in horror" at the prospect of holidays cottages or glamping on the estate. Two hydro schemes are also being planned to supplement estate income.
The main costs on the estate are wages. She employs a farm manager, a game keeper and a general handyman. Grouse shooting brings in income at the end of summer, although grouse numbers have significantly dropped due to the grouse beetle depleting habitat.
But there's also general upkeep of the estate to think about.
And the recent bad winter had also taken its toll.
She added: "Everyone says what would I do if I won the pools? Well I would mend all the fences and make all our outbuildings wind and watertight!"
Mrs Paterson says it'll be a "few years yet" before she stands down from the estate. Whilst daughter Nicola is "laird in waiting", she has recently taken on an almost full-time job at Loch Lomond and the Trossachs National Park, again to make ends meet.
But what advice would she give Nicola when she does take over?
"You've just got to find your own niche," she said.
"There's a lot of rules, regulations and a lot of paperwork running an estate.
"When mum started handing over to me, it was a steep learning curve. But you have to dig in and get on with it."
The first part of Lady Lairds is aired on BBC One Scotland on Monday March 7 at 9pm.
malexander@thecourier.co.uk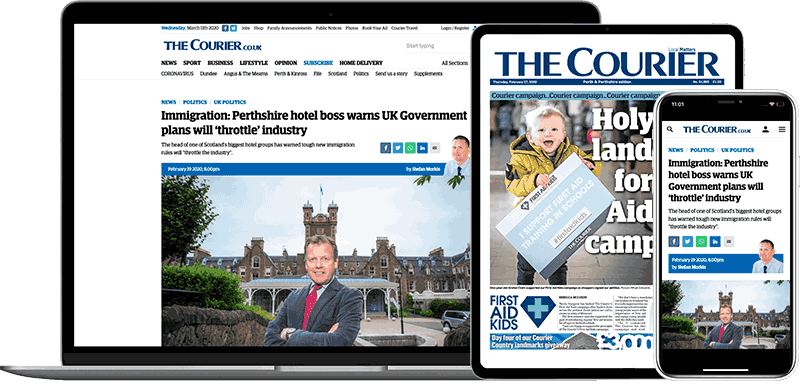 Help support quality local journalism … become a digital subscriber to The Courier
For as little as £5.99 a month you can access all of our content, including Premium articles.
Subscribe