 MPs across Tayside and Fife have claimed tens of thousands of pounds of taxpayers' money to rent offices from their own political party, it has been revealed.
Information published by the Independent Parliamentary Standards Authority (Ipsa) disclosed details of landlords for politicians' office space for the first time.
All three local SNP MPs Mike Weir in Angus, Stewart Hosie in Dundee East and Perth and North Perthshire's Pete Wishart lease from their local party branch, while Sir Menzies Campbell has the same arrangement with the North East and Central Fife Liberal Democrats.
Local Labour MPs all rented from private businesses or people, although some of their colleagues in Westminster went through the party.
It also emerged MPs have claimed more than £3.6 million to rent offices from political parties since the general election.
The average cost of leases from political parties was also slightly higher, at £14,886 as opposed to £14,156 from elsewhere.
If the average cost of leases from political parties had been the same as those from other landlords, the bill for the taxpayer would have been £178,120 lower since the general election.
Ipsa said the difference between the cost of the leases was one of the things it would be looking at in a review.
Chairman Sir Ian Kennedy said: "Our rules allow MPs to rent from a political party but we require an extra assurance from MPs if they do so: an independent valuation that the lease represents the market rate. We are confident that this measure means taxpayers have received value for money from these leases."
Jonathan Isaby, political director of the TaxPayers' Alliance, said: "The practice of MPs renting space from those who also donate money to the MP or their party should also set alarm bells ringing.
"It's effectively a back-door subsidy to political parties that is exploiting an allowance meant to assist MPs in their work serving their constituents, not boost the coffers of their re-election campaign."
Sir Menzies, who claimed the least of any local MP and below the Westminster average, claimed he paid less rent as a result of having his party as a landlord, adding his rent was calculated by an independent surveyor and approved by Ipsa.
He said: "If I had to provide a separate office from the one that I have with the local Lib Dems I estimate that the cost would be at least twice, or possible three times as much."
An SNP spokesman said: "Evidence from independent assessments confirm that properties rented by SNP MPs are of reasonable commercial costs, in line with Independent Parliamentary Standards Authority rules."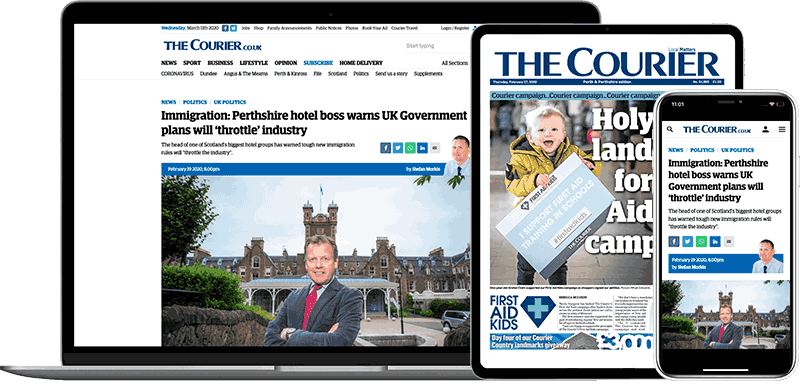 Help support quality local journalism … become a digital subscriber to The Courier
For as little as £5.99 a month you can access all of our content, including Premium articles.
Subscribe