 At the ripe old age of 39, former Zimbabwe World Cup star Henry Olonga insists that cricket is no longer central to his life.
But he still looks every inch the sportsman as he bounds down the stairs in the Dundee digs he's been staying in this week to help locally-based charity the Maywave Appeal to raise money for a Zimbabwe orphanage.
Describing himself nowadays as an evangelist who "goes around the world telling people about God and about how they've got to get their lives right before they die", he volunteered to travel to Dundee on a pro bono basis after being contacted by the charity's organiser.
But when he does tell his life story to schools and rotary clubs, as he has been doing on his travels in the city this week, inevitably the focus returns to the moment almost 13 years ago that marked him out as one of the most courageous figures in the history of sport .
On February 10 2003, as his country prepared to host its first World Cup match against Namibia, Olonga and his Zimbabwe colleague Andy Flower, released a statement to journalists at the Harare Sports Club in which they denounced the "death of democracy" in their homeland.
And in order to underline their opposition to President Robert Mugabe's 'regime', they took to the field wearing black armbands.
It was a brave, if not foolhardy, thing to do which led to him being effectively charged with treason by the regime, notorious for its systematic violence and torture.
Whereas Flower had announced his retirement from international cricket prior to the World Cup, and had a promising career in coaching ahead of him, for Olonga, there was nothing, other than uncertainty.
He was the youngest player to represent his country and, more significantly, he was the first black man.
But despite the stance he took against Robert Mugabe's "brutal" regime meaning he can never step foot in Zimbabwe again without risking the death penalty, Olonga stands by everything he did.
He told The Courier: "Unless Robert Mugabe has become an angel and changed his ways, I still stand by every single word we said. People called it a protest. It was a protest. A peaceful one to raise awareness. But it was also an appeal to the powers that be to end their ways, to stop vilifying opposition members, to stop victimising and persecuting anyone who opposes them, to stop corruption in government. Frankly, I don't think they have. A couple of years after the appeal they tore a couple of thousand peoples' homes down. In 2008 there were violent elections. Even today the land reform programme continues unabated. The story continues"
Olonga's mother and father still live in Zimbabwe. Thankfully, he says, there have been no repercussions against them. But with a young family, and having lived in England for most of the last 12 years before emigrating to Australia a few weeks ago, he says he cannot take the risk of returning home.
He added: "The powers that be wanted to kill me back then. Would they want to do it now? Probably not. I'm old news. I was 26/27 when I did it. I can't verify if I was charged with treason (which carries the death penalty). If you go on Wikiepedia that's what it says. But all I'll say is that the risks posed, whether perceived or real, are not risks I'm prepared to take when I have two daughters aged three and five."
Olonga said he was "stunned" to learn last month that Mugabe had been awarded China's Confucius peace prize their equivalent of the Nobel Peace Prize.
He said: "To be given a peace prize of any description, one must have made a concerted effort to bring peace to the world. In the case of the leader of Zimbabwe, I would suggest that a lot of strife has been introduced into many peoples' lives, many of whom I come across in my travels across the world, and I think they would object".
As the on-going international athletics doping scandal proves, sport and politics inevitably mix.
But is it desirable?
"Probably not, "said Olonga, "but here's the greater question. As human beings, if we can use sport as a force for good to bring about political change that is positive, should we not use it? I would say yes. The problem is we don't want them to be overtly political. Most people draw a line somewhere.
Weirdly, as someone who did a protest, I don't want to watch world cups where every match is a political protest.
"But I live in a world where I see politicians who are crooked, corrupt, who will lie to their population just to get voted in, who will steal money from the population. I'm talking Africa it would never happen here!"he laughed.
"I think as a human being with a strong opinion on how governments should treat their people, if I'm given a platform to speak out against injustice, I'm going to use it.
"Next year it might be through music, the year after art – I don't know. But in a world full of pain, death and suffering, people have got to speak out against powerful people picking on the weaklings."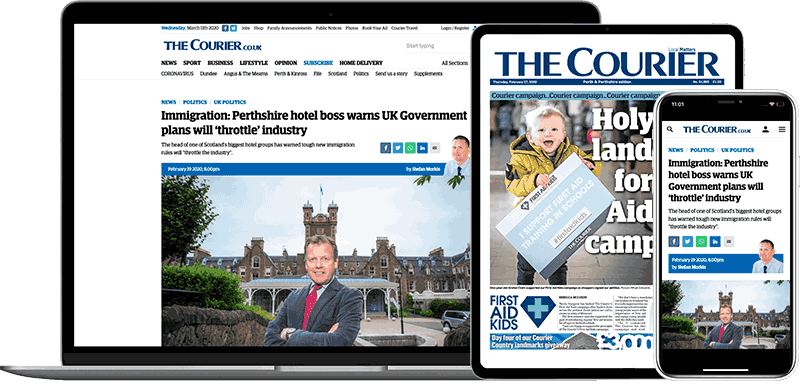 Help support quality local journalism … become a digital subscriber to The Courier
For as little as £5.99 a month you can access all of our content, including Premium articles.
Subscribe