 In an exclusive interview to mark the week that could have seen 'Independence Day' for Scotland, two Courier Country men speak to MICHAEL ALEXANDER about their involvement in the hiding of what some regard as the 'real' Stone of Destiny in the 1990s.
It's a mystery that has provoked wild speculation for decades is the Stone of Destiny on display in Edinburgh Castle a fake?
When the stone was returned to Edinburgh from Westminster Abbey in 1996, a nation thought that its holiest relic, used for coronations a millennium earlier, had at last come home.
The stone had been away for 700 years, since the Hammer of the Scots, Edward I, took it to England as war booty.
Now, to mark the week that would have seen 'Independence Day' if Scotland had voted 'Yes' in the 2014 referendum, two Courier Country men have spoken exclusively for the first time about their role in the secretion of what many believe is the 'real' stone, which, they understand, is still hidden at a secret location somewhere in Scotland.
Charles Henderson, now 72, a retired engineer of Auchtermuchty, was working his way around Scotland photographing castles in the early 1990s when he made friends with David Eaton, now 73, of Meigle, who was at that time, custodian of Dunfermline Abbey.
In 1991, Charles was asked by David, who was a chevalier with the Knights Templar, if he would help him move the 'real' Stone of Destiny from the former St Columba's Church in Lochee, Dundee.
The stone, locked inside an iron cage, had been on display in the Lochee church since 1972 under the care of the Rev Dr John MacKay Nimmo.
A Scottish nationalist organisation, the 1320 Club, claimed it was the genuine stone stolen from Westminster Abbey by four students in 1950 and never returned. The stone returned to Westminster was a replica, made by a Glasgow stonemason, the club claimed although the abbey always said it was sure the stone in London was genuine.
"I was asked to help because I had a Peugeot 305 diesel van!" laughed Charles in an interview this week at his home in Fife.
"According to the late-Rev Nimmo, after the stone was stolen from Westminister in 1950, the one placed on the high altar at Arbroath Abbey in April 1951, and returned to London, was actually a copy.
"The real one was kept and moved around secret locations under the guard of the Knights Templar."
Taking his then 14-year-old son Adam with him to Dundee, Charles met up with a group of men he'd never met, including several Knights Templar. They carried the stone from Rev Nimmo's manse resting only to have their photograph taken for posterity before loading it into Charles' van.
Charles said he was then asked to drive it to Hatton Castle, Newtyle. A few months later he was asked to pick it up again and move it on to a former church, bought by the Knights Templar, at Dull near Aberfeldy, Perthshire, where more photographs were taken with Knights Templar in full regalia.
He understands the stone was later moved to Logie Coldstone, Aberdeenshire but he "lost track after that".
"In my mind there was always a bit of dubiety about whether it was the 'real' stone," added Charles, who said he was "too open-minded to be a Scottish nationalist".
"But Rev Nimmo certainly believed it to be the real stone. He was a man of the cloth and he had no doubt in his mind whatsoever that this was the real stone we were moving."
Mr Eaton, a fervent nationalist who says he is no longer involved with the Knights Templar, said he too remained "open minded" as to whether they moved the 'real' Stone of Destiny.
"Let's put it this way, Rev Nimmo believed it to be the real stone, "he added, speaking from his home in Meigle.
"I have an open mind, but it's impossible to prove!"
Another legend claims that the stone which Edward I spirited to England in 1296 was not the real stone to begin with. Legend has it that the monks of Scone Abbey duped the English monarch with a fake, under torture, and that the real Stone, reputed to have been used as a pillow by Jacob in biblical times, was hidden where it also still remains.
Mr Eaton added: "Scotland will survive whether the stone in Edinburgh, or the stone still hidden, is the real one or not. Even if the stone at Edinburgh Castle is the stone used for 700 years, it is now historic in its own right. But I believe the stone taken to Westminster Abbey in 1296 was actually a fake, quarried out of the Tay by the monks to fool the invading English Army. The 'real' real stone said to be made from marble is still out there!"
Contacted by The Courier, a spokesperson for Historic Environment Scotland, said: "We are confident that the Stone of Destiny on public display at Edinburgh Castle is the stone that was taken to Westminster Abbey by Edward l in 1296."
The Grand Priory of Knights Templar in Scotland offered its own explanation. A spokesman said: "There is a group of Scottish Templars who have "Bailey Gray's" fake Stone of Destiny that used to be in his shop window. Bailey Gray was the stonemason who hid, and repaired, the Westminister stone when it was stolen by Scottish Nationalists in the 1950s. Bailey used the fake in the shop window as a publicity stunt. Once the Westminister Stone was recovered the fake dissappeared but re-appeared in Parliament Square in Edinburgh in 1972. The Rev John Nimmo took ownership of the stone until his Dundee Lochee Church closed and then the stone was moved to a Scottish Knight Templar Church at Dull, Aberfeldy. On the sale of this church the fake stone was moved around the country and its current whereabouts are unknown. The Westminister stone was moved to Scotland in 1996 and by Historic Scotland's own admittance, "The left foot wear on one side of the stone appears to reflect its use as a step in a cylindrical staircase!" Historians will tell you that the real stone of Scone was probably black in colour. This stone has never been found!"
malexander@thecourier.co.uk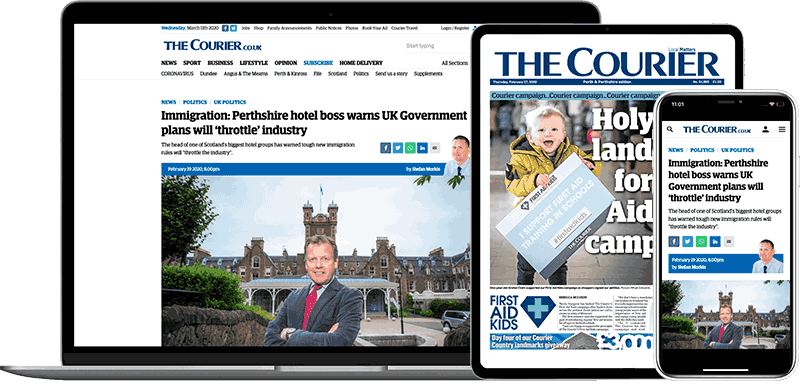 Help support quality local journalism … become a digital subscriber to The Courier
For as little as £5.99 a month you can access all of our content, including Premium articles.
Subscribe