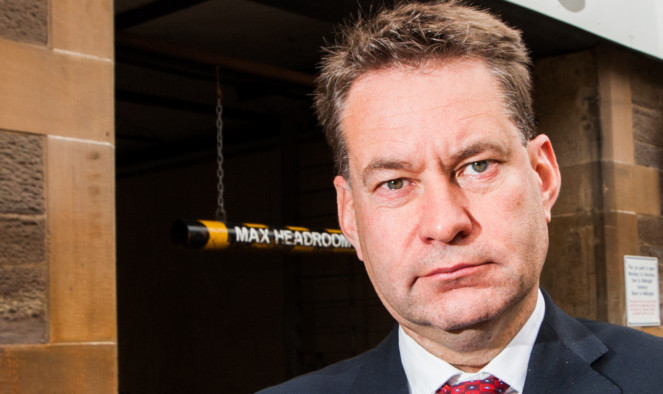 Perth has suffered a "dagger to the heart" after it was snubbed again as the location for a major headquarters.
The city has been overlooked for the Scottish Fire and Rescue Service (SFRS) base, with ministers and fire chiefs opting for Cambuslang near Glasgow instead.
It has fuelled accusations that the Scottish Government is too wrapped up in central belt investment at the expense of other communities.
A fire service report published earlier this year identified Perth Atrium as the cheapest site.
But it recommended Stirling's Kildean Business Park as the preferred option because the former was deemed not fit for purpose.
Murdo Fraser, the Conservative MSP for Mid Scotland and Fife, said it is "extremely disappointing news" that both cities have been rejected.
He said: "If we are to believe the Government's claim that this decision has been taken as a result of finances then it is puzzling to learn that Perth wasn't reconsidered as it was identified as the best value option.
"This late move will deepen suspicions that the SNP is too focused on communities within the central belt and jilting Stirling and Perth will only fuel these claims."
The fire service has been temporarily based in Whitefriars Crescent, Perth, since the merger of its eight forces.
Perth and Kinross councillor Alexander Stewart, who sat on the joint board of Tayside Fire and Rescue for 14 years, said: "We are 90 minutes away from 90% of Scotland but yet again we are losing out to other communities."
Liberal Democrat MSP Alison McInnes said: "By overruling the preferred option of the fire board, the SNP administration continues along its path to centralise all of Scotland's essential public services."
The Government did not think the Perth site would be able to support 200 staff.
Ministers decided the new-build option at Stirling was not the best use of taxpayers' money and asked SFRS to look at its existing sites.
A Scottish Government spokeswoman said: "Co-locating the national headquarters alongside the state-of-the-art training facility will provide opportunities for the service to continue to develop into the world-class organisation that we want to see."
Alasdair Hay, chief officer at SFRS, said using one of their existing buildings means they have saved £7.6 million that would have been needed for the Stirling site.
He added: "The site at Cambuslang not only offers the key requirements for a national HQ in terms of advantages of accessibility, presence and image, but will also stand the test of time in terms of its size, flexibility of use and best value."