 A popular library could close and up to 13 jobs be axed as part of a major cultural shake-up by Perth and Kinross Council, The Courier can reveal.
The local authority is struggling to make a six-figure saving and has launched an extensive cost-cutting drive.
In a bid to slash its outgoings by £281,000, every cultural asset has been put under intense scrutiny, including Perth Museum and Art Gallery which could remain closed every Monday.
Despite recording a 23.7% increase in visitor numbers over the last two years, the council intends to keep all libraries shut on Mondays, while the West Mill Street Library in Perth will close down completely.
The move will come as a major blow to elderly and visually impaired users, as the city centre library holds a significant collection of large-print and audio books. It also hosts a popular book club, which is seen as a lifeline to members.
Although most services will be relocated, frail and vulnerable visitors will be forced to travel further afield to the AK Bell and the North Inch Community libraries.
Head of cultural and community services Fiona Robertson revealed the introduction of campus libraries had resulted in the spike in visitor numbers and suggested this is not sustainable.
In a report to be considered by the lifelong learning committee, she said: "The review found that the opening of the community campuses from 2009-10 has had various impacts."
Ms Robertson said: "For example, many Perth city library members now use North Inch Campus (which has seen a 36% increase in usage since it opened), in preference to AK Bell as it is nearer to where they live and this has contributed to a reduction in usage at the AK Bell of 24%.
"The review also found that opening hours could be more effectively structured to meet customer need and that there is overall duplication of services in the city centre where services could be redesigned to make better use of resources while ensuring a good level of full-time services for customers is maintained."
The report also reveals Perth Museum and Art Gallery and the Fergusson Art Gallery could both be affected by the cuts.
Consideration had been given to closing both venues between January and March, saving more than £10,000 but there were fears this could have a detrimental impact on the 10-year plan to build Perth as a year-round destination.
As an alternative, the two visitor attractions will be closed on Mondays, with seasonal Sunday opening hours from April to October. The estimated savings achieved would be £20,318 within a year.
Although it provides one of the biggest draws to Perthshire for visitors, the local authority has failed to take the opportunity capitalise on the popularity of Alyth Museum by extending its opening hours, instead choosing to retain its schedule which stands at 16 hours per week.
In her report, Ms Robertson said: "The review found that the museum played a key role in local tourism, with visits made predominantly by tourists to the area, a significant proportion of whom are from overseas."
Meanwhile, the probe has targeted a variety of outreach projects, many of which support adult and family learning, as well as vulnerable groups.
Any services that are provided elsewhere will be phased out to help the council save almost £13,000. This will include a reduction in classroom-based storytelling and the popular Rhymetime activities.
As a result of the cuts in services and opening hours, the council is facing a "worst case scenario" of cutting 13 posts.
Lifelong learning convener Bob Band claimed the new consolidated opening hours would actually be beneficial to residents.
He said: "We have very carefully assessed our library and cultural venue provision and as a result the recommendations before the committee are aimed at ensuring we can keep delivering an effective, high-quality service to customers while making best use of staff and other resources and achieving required savings to council budgets.
"While there are some changes being proposed to the services we provide, the wider picture is positive, in particular as it opens up access to mobile library provision in rural areas.
"Consolidating library opening hours will also make it easier for customers to know when they can access their local library."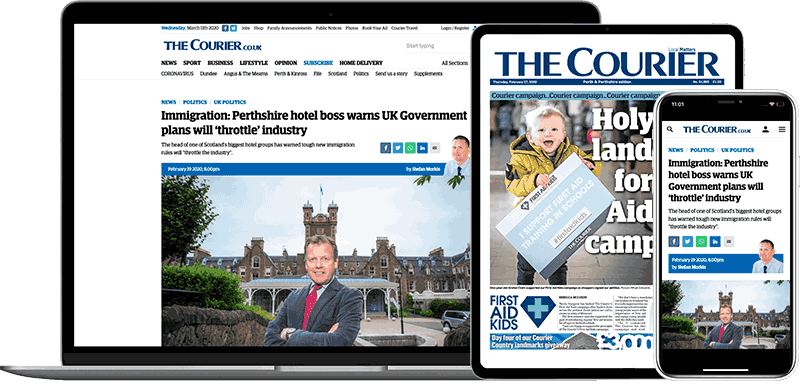 Help support quality local journalism … become a digital subscriber to The Courier
For as little as £5.99 a month you can access all of our content, including Premium articles.
Subscribe