 A worried mother handed her own son into the police because she feared he was about to carry out an armed robbery on a bank.
Lilian Hope called in the police after discovering her son William, 41, had purchased a gun as she was concerned he would use it during a heist.
William Hope, who had previously been involved in drug dealing, claimed he had bought the £185 air pistol and pellets to shoot pigeons. He was found with them in a box in his car.
Perth Sheriff Court was told that Hope's mother intervened to report her son to the police because she was worried about what he might do with the weapon.
Hope, Station Road, Perth, admitted having an air pistol and ammunition in Perth city centre on 9 June last year. A previous three-year sentence for drugs offences meant he was banned from having any weapon.
He also admitted behaving in a threatening and abusive manner at Skinnergate in Perth on 19 August last year after being told to turn down loud music.
The court was told Hope was sentenced on 7 October 2008 to three years prison for drug offences. One consequence of that was that he should not have had a gun of any description after his release.
"He met his mother and informed her he purchased an air pistol with the intention of shooting pigeons," fiscal depute Bill Kermode told the court.
"His mother was extremely distressed about that. She feared for the safety of him and others should he be in possession of a firearm.
"She contacted his GP for advice about his mental health and mentioned the air pistol and said that she was scared the accused was going to rob a bank.
"She was advised to contact the police which she then did. She told police she was on her way to Dunning with the accused and had possession of the air pistol."
Solicitor John McLaughlin, defending, said Hope had purchased the gun to shoot birds and claimed he could not remember being told that he was not allowed to have an air weapon.
"I don't know where the line about the bank came from," Mr McLaughlin said. "She gave a statement in which she said she was concerned about his mental health.
"He had no idea he was committing an offence and his thinking seems to have been fairly muddled. It was in the footwell of the car and was found fairly quickly after it was purchased. I would ask the court to accept it was not sinister."
Sheriff Lindsay Foulis ordered Hope to carry out 225 hours unpaid work.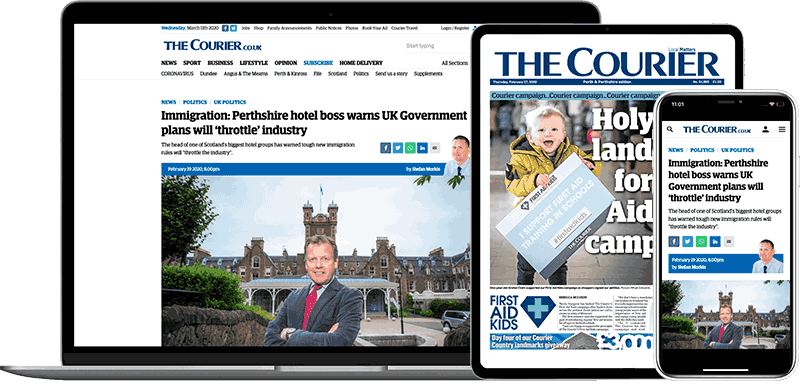 Help support quality local journalism … become a digital subscriber to The Courier
For as little as £5.99 a month you can access all of our content, including Premium articles.
Subscribe