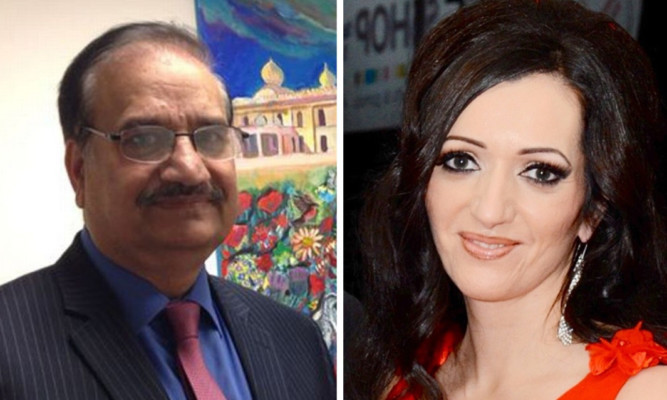 A high-profile defector from the SNP to Labour has been slammed for launching a "racist" attack on the nationalists' Perthshire South and Ochil candidate.
Muhammad Shoaib called Tasmina Ahmed Sheikh a "coconut" and not a "pure" Pakistani in an interview for a Sunday newspaper, branded "utterly outrageous" by a Scottish Government minister and condemned by an equalities group.
The man who led Scots Asians for Independence during the referendum campaign controversially quit for Labour last week, claiming there is "no interaction with ethnic minorities" from the SNP at a grassroots level.
Mr Shoaib said: "We knew, apart from Tasmina, that nobody else was going to succeed in the SNP. I told everybody long before the process started they wanted coconut Pakistanis.
"They don't want pure Pakistanis. This is a saying of community elders those people who look black or black background and white inside."
Asked if there is tokenism in the SNP, Mr Shoaib said: "Yes. It's very, very clear. She (Ms Ahmed Sheikh) succeeded because she formed a very close relationship with Alex Salmond. Otherwise she couldn't have succeeded."
Rami Ousta, chief executive officer of national ethnic minorities led umbrella body Bemis, said Mr Shoaib's language could "carry serious implications for the young generations".
He added: "Such terminology is unacceptable and damaging to the core values of equality and active citizenship.
"There is no doubt that in Scotland we have developed a robust pride in celebrating and living diversity at various levels, and our citizenship should not be undermined and classified through colour coding and offensive terminology but rather through celebrating our diversity within the context of equality and our Scottish identity."
Minister for Europe and International Development Humza Yousaf said the SNP is "entirely inclusive", with candidates selected on their ability, not background.
"These comments from Muhammad Shoaib are utterly outrageous," he added. "It is nothing short of racism to call Tasmina a 'coconut' simply because she has one white parent and one Asian parent.
"To then say she is not 'pure Pakistani' is beyond the pale. Jim Murphy must take disciplinary action immediately."
A Labour spokesman said: "Mr Shoaib is reflecting his own experience of trying to win selection as an SNP candidate. He also maintains that his experience is not unique among other black and ethnic minority members of the SNP."