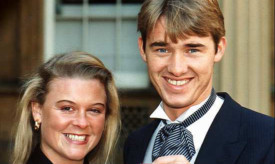 Snooker star Stephen Hendry has left his wife heartbroken after ending their 19-year marriage.
The millionaire sportsman, who owns a property in Gleneagles, is understood to have left Mandy to strike up a new relationship with a young actress.
It was revealed Hendry met his girlfriend while she was officiating at a series of Snooker Legend exhibition games.
He has now quit his Perthshire home and moved to England to be with 26-year-old Lauren Thundow, who appeared in a stage production of classic children's show Noddy in Toyland and Fifi and the Flowertots.
Wife Mandy said: "This is a very trying and emotional time. However, my main priority is the wellbeing of my children."
She and Hendry have two sons 17-year-old Blaine and nine-year-old Carter. According to reports, the couple had been desperately trying to save their marriage but split two months ago.
Hendry, 45, was born in South Queensferry and is one of the most successful snooker players in history. He became the youngest professional in 1985 at the age of 15.
Within six years, he was the youngest-ever snooker World Champion, before going on to become the sport's world number one for eight consecutive years between 1990 and 1998, taking the top spot again in 2006.
After earning £10 million from the game, he quit two years ago and is now a pundit for the BBC. He met Mandy when he was a teenager playing in a junior tournament at a Pontins holiday camp.
They married in 1995 and moved to Auchterarder, where the snooker idol is a keen golfer. A year later, Mandy gave birth to Blaine and after suffering a devastating miscarriage in 2003, the couple celebrated the arrival of Carter.
It is understood they first separated last year but tried to make their relationship work just before Christmas. Hendry is not the only snooker star to have faced marriage problems.
Legend Steve Davis had a fling with a 19-year-old dancer in 1995, five years after he married air hostess Judith Greig. In her kiss-and-tell story, Cheree Palla revealed he had a "secret" birthmark on his bottom.
Meanwhile Alex "Hurricane" Higgins confessed to a night of passion with Rolling Stone frontman Mick Jagger's ex-girlfriend Marianne Faithful.
Jimmy White has also been caught out by his wife, who found other women's phone numbers in his pockets and scrawled them over the walls of their home.