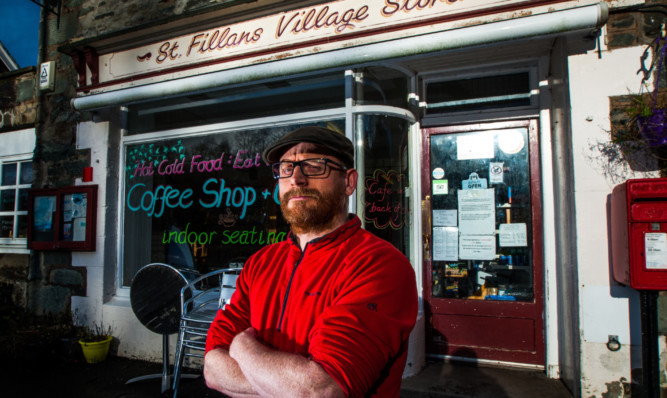 Residents of a Perthshire village say they're "incredibly frustrated" after being left with no landline service for up to four months.
It is believed that a large proportion of 224-strong population of St Fillans has had either no or only very weak landline and internet connections since October.
Some business owners claimed they've lost hundreds of pounds of revenue due to the problems, thought to have been caused by bad weather and waterlogging.
Meanwhile, vulnerable and elderly residents are worried if they need to access help.
Sally Watson, an 84-year-old villager said: "I've had no phone line since January 10.
"I live alone and I have a panic button that I can push if I have a fall.
"This relies on a landline, and I'm now having to use my mobile phone instead."
St Fillans Village Shop owner Liam Cayless said he's lost out on business.
He said: "Convenience shops are closing left, right and centre and I can't afford the losses I've been having.
"Some people don't have cash on them so when the cash machine isn't working they can't buy anything and walk out."
Another business owner affected is Jo Steventon, who runs a slimming group in the village.
The 56-year-old said: "The problems started in October and gradually got worse.
"There is so much static on the phone line that it's unusable and the internet connection is intermittent."
A BT Openreach spokeswoman said: "Problems began in early December and engineers pinpointed the fault to a 100 metre section of cable which needed to be replaced.
"Unfortunately, the cable route into the village runs along the main A85 trunk road and we had to apply for permission for traffic management.
"Roadworks of this nature are subject to statutory notice periods and access is negotiated with the roads authority.
"Attempts to renew the cable have been further thwarted by engineers encountering numerous blockages in underground pipes, probably caused by silt after heavy rainfall.
"In the event of a fault of this nature, service providers can arrange line diverts to keep people connected. We're sorry this complex fault has taken longer than usual to repair."