 A woman suffered horrendous injuries after colliding with a dog on a rural Highland Perthshire road, a court has heard.
Elaine Sandison was cycling at Bridge of Gaur, near Loch Rannoch, when a chocolate brown labrador came "from nowhere".
The resultant collision left the 47-year-old with what were described in court as "life-changing" injuries.
She required a shoulder replacement after it was broken in five places.
Mrs Sandison also suffered a broken jaw, five broken teeth and a gash on her chin that had to be glued shut.
She is pursuing a claim for injuries and damages against the dog owner, Thomas Coope of Port Askaig, for the incident on July 11 2010.
Perth Sheriff Court heard Mrs Sandison was training for the Etape Caledonia cycle event with Colin Howard, 40, a cyclist with around 20 years' experience who held a British Cycling coaching qualification.
Two dogs owned by Mr Coope, who was on a fishing trip with friends, ran into the road.
The dogs were not restrained and Mrs Sandison and Mr Howard would both have been travelling at around 18-20mph, but neither had sight of the dogs until "they were upon them".
Mr Coope shouted "dogs" and Mr Howard managed to avoid hitting them but Mrs Sandison collided with one and lost control of her bike.
Sheriff William Wood concluded that 70% liability for the accident lay with Mr Coope and 30% lay with Mrs Sandison.
He stated: "The primary cause of the collision was that Mr Coope failed to take appropriate steps to control his dogs. But Mrs Sandison failed to moderate her speed and be aware of potential hazards around a blind corner."
The court heard that Mrs Sandison, from Paisley, fell following the collision and was held on to her bike by her cleats.
Another hearing will take place on April 20 due to Mrs Sandison recently undergoing medical treatment.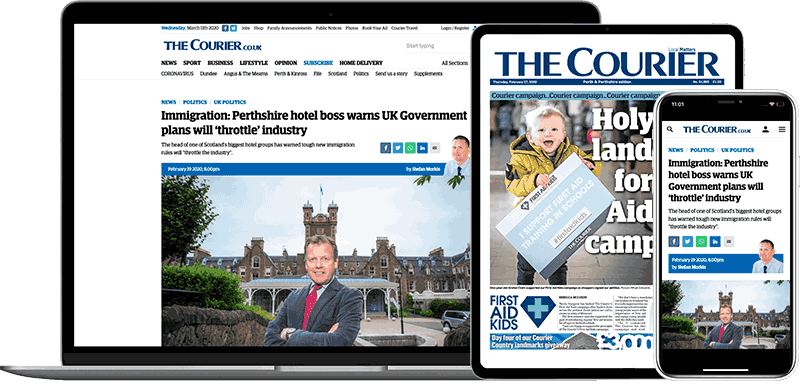 Help support quality local journalism … become a digital subscriber to The Courier
For as little as £5.99 a month you can access all of our content, including Premium articles.
Subscribe