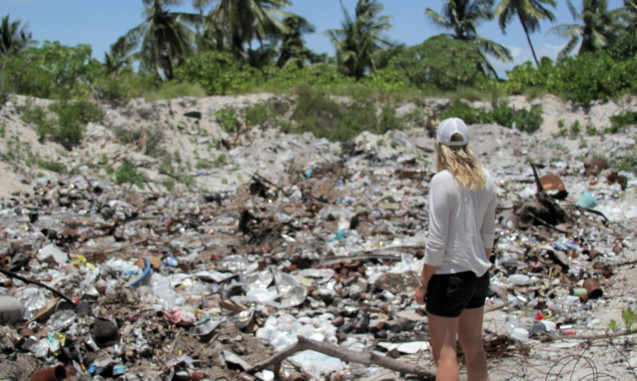 If ever there was a damning indictment of the irresponsible treatment of the environment by humans, then the estimated 5.25 trillion pieces of plastic trash floating in the world's oceans is right up there, according to environmentalists.
Add to that the estimated eight million tons of plastic dumped or flushed into the seas each year, and it doesn't take an oceanographer to realise there's a potential environmental catastrophe in the making.
The vast swirling islands of rubbish that accumulate in the oceans' gyres found in the Pacific, North and South Atlantic and Indian oceans – have been well documented.
But shockingly, according to recent research, the visible gyres could be just the tip of a man-made iceberg, accounting for probably just 5% of all the plastic waste that has been dumped, blown or washed into the sea.
Of the rest, it's thought some is trapped in Arctic ice, more sinks to the sea floor and a good bit comes to rest on beaches and shorelines.
Perhaps most worryingly, it raises the disturbing possibility that the remainder of the plastic is being eaten by fish and it could be finding its way into the human food chain with unknown consequences.
Oceans advocate, skipper and artist Emily Penn has first-hand knowledge of the problem. During a round-the-world sailing voyage at the age of 21, the Cambridge University architecture graduate from South Wales, now aged 28, had her "eyes opened" to the damage being caused to the global maritime environment.
She has since dedicated her life to developing environmental solutions.
Now, ahead of a lecture she is giving to the Royal Scottish Geographical Society in Perth on Tuesday November 10, Emily told The Courier the world must sit up and realise the consequences of the problem.
She told The Courier: "The gyres are well documented. Plastics are being washed into drains, rivers and sewers, and then because of the global system of rotating currents caused by the Coriolis Effect (of the spinning Earth), tonnes of plastic swirls together in massive pools in the oceans at 20 to 40 degrees north and south of the Equator.
"There's thought to be more than five trillion pieces of plastic weighing over 250,000 tonnes floating in the oceans."
From dead albatrosses to whales with their stomachs stuffed with plastic, it's estimated that 100,000 seabirds and 100,000 mammals die each year as a result.
But Emily said she found potential impact on humans even more frightening.
She added: "Because this plastic is made from oil and is hyperbolic, it attracts other oil-related chemicals at a molecular level, for example, the chemicals used to control malaria, or even the chemicals used to make furniture flame retardant. There are all sorts of chemicals that have been released into the environment which mimic our hormones. These are being absorbed by plastics that are breaking down in the oceans and being eaten by fish. These then get into the human food chain. The research is at an early stage we know each of the stages is happening. We know these chemicals can cause cancer. We know they change hormones. It's about joining the dots."
During a recent expedition, Emily and her fellow all-female crew had their bloods tested for contamination. Of the 35 most dangerous chemicals tested for, 29 were found including high levels of flame retardant chemicals inside her own system.
She believes exposure happened during an extended stay in Tonga where the locals burned much of their plastic rubbish, because they had nowhere to bury it due to land being just a few feet above sea level.
She said:"Due to over-fishing by international trawlers, the locals there now have no fish and are dependent on imported plastic packed products. They have these amazing white sandy beaches yet look behind the first row of palm trees and it's a whole other story with piles of rubbish. They have a choice they can stack it up, burn it or throw it in the sea."
Emily has seen improvements. She organised a massive clean-up in Tonga and is working with charities to develop education programmes. The plastic bag charge in the UK is also a welcome step towards reducing plastic consumption, she said. There are now less plastic beads used in facial exfoliants and toothpastes.
Yet of eight million tonnes of plastic still leaving the land each year worldwide, 50% is now coming from Indonesia, China, Thailand, the Philippines and Vietnam.
She admits an indiscriminate ban on plastics is unrealistic. People in the developing world depend on it to deliver clean water, preserve food, and improve health care.
But she added: "That doesn't mean that plastic should end up in our oceans. We must keep working together to find solutions."
Emily Penn's lecture takes place on Tuesday November 10 at Perth Concert Hall from 7.30pm until 9.30pm. Tickets from the box office.