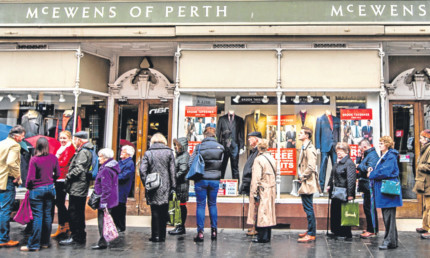 Hundreds of people across Tayside and beyond could be left counting the cost of the imminent closure of the McEwens of Perth store.
It emerged at the weekend that as bargain-hunters descended on the shop for a closing down sale that those holding vouchers from the store were being advised to contact the administrators KPMG.
One man caught up in the demise of Scotland's largest independent and family-run department store chain described the failure to honour the vouchers as "a total disgrace".
He said his wife had gone to the St John Street store to spend vouchers she had been given as a Christmas present only to be told they wouldn't be accepted.
"She was turned away, there must be a hell of a lot of people with these vouchers," he said.
"I don't know how many people will be involved, but this must run into many thousands of pounds."
Aberfeldy man Donald Johnson was among those to record his dismay on social media after he found that £200 of vouchers he bought for his wife's birthday three weeks ago were not being honoured.
In a shock announcement on Thursday it was revealed Blair Nimmo and Tony Friar of KPMG had been appointed as joint administrators to McEwens of Perth Ltd.
At a the weekend a spokesperson for KPMG confirmed that people with vouchers would have to contact them along with other creditors.
The voucher holders and creditors are not the only group to lose out from the plight of the chain which specialises in fashion, cosmetics and homeware.
Its flagship store in Perth has been a prominent feature on the city's retail map since it opened in 1868 and they also ran smaller stores in Ballater and Oban.
At the time of going into administration McEwens employed 110 staff, 97 of whom were based in Perth.
Some 64 employees were made redundant immediately with 46 employees (33 from Perth, nine from Ballater, four from Oban) remaining to assist the joint administrators.
The stores in Ballater and Oban have closed with immediate effect while the Perth store remains open for the closing down sale.
Mr Nimmo of KPMG explained the move into administration saying: "Despite the directors' best efforts, McEwens of Perth continued to incur trading losses as a result of the many challenges being felt by the retail sector."
After hectic scenes on Friday hundreds of people queued along St John Street and down South Street on Saturday hopeful of getting a bargain.
Members of the queue reported it took an hour from joining the line to getting entry to the store, which will be open again today.
Employee Lesley Beange from Perth was on holiday when news broke and described the final days of McEwens as "sad".
"Obviously not ideal to hear this news on holiday but neither is it the news I would have been any happier to receive at home," she said.
"Yes, at least I would have got to say goodbye to some people, on the other hand at least I've missed seeing in person the scenes outside the shop today."