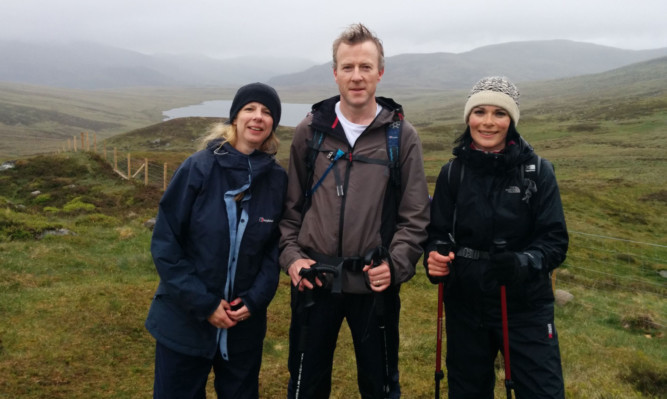 We came, we saw, we conquered…some of us more than others!
After months of anticipation, the 2015 Cateran Yomp finally arrived, with 600 competitors including 217 serving soldiers and veterans taking part.
It was an unforgettable day spent marching through Perthshire and Angus countryside with fellow masochists/yompers and I've been pretty wiped out since, hence the delay in getting this blog up!
Having psyched myself up to tackle the silver 36.5 mile route, I was fairly determined to reach the finish point at Kirkton of Glenisla.
However, any hopes of getting a good night's sleep ahead of the big day went completely out the window.
The small glass of red wine and herbal sleeping pill I'd taken had absolutely no effect. Wide awake at 2am, I was not in the best mood when I got up, bleary-eyed and stiff, at 5am.
Arriving at Yomp HQ at Blairgowrie, I was very grateful for the coffee and bacon roll.
Team Courier consisted of groups tackling bronze, silver and gold. Truth be told, none of us were in a rush; it was more about the enjoyment factor.
Heading off at 7.15am, the first few miles flew by and we couldn't believe it when we saw signs for the first refreshment stop. We didn't hang about long because of the midges.
It was late afternoon by the time we made it to the 22-mile bronze finish in the Spittal of Glenshee, and we were like drowned rats, having got caught in a heavy downpour.
Luckily the fabulous Yomp organisers had thought of everything. The huge industrial heater inside the marquee dried off our dripping wet hats, trousers and gloves in no time.
Following a sumptuous lunch of chilli and baked potatoes, three of us left our bronze colleagues behind and set off towards Glenisla.
This was new territory for me – I'd only done bronze last year – but my colleagues had been here before, Mike Alexander having completed gold, and Jill Robertson, a silver veteran.
The views that opened up before us were spectacular, peppered with crumbling ruins, tumbling burns, standing stones, hills and glassy lochs.
Navigating boggy Loch Beanie wasn't as bad as anticipated and we posed above it for pictures.
The next section was tricky in parts, with a few streams and dips to negotiate. As dusk began to fall, we came out of the woods and stopped for haggis, neeps and tatties at a food stop. Bliss!
While the word yomp is a military term for a long-distance march, it's a gruelling test for both civilian yompers' and seasoned adventurers. But unlike everyday soldiers, this 'Cateran Army' swapped ration tins for indulgent pick me ups en route including cakes, sweets, cheeseboards, strawberries, sandwiches and full-on hot meals! That's why they call it the eat-a-thon!
Head torches helped us to pick our way through the heathery tracks, and we were spurred on by fireworks over Loch Shandra.
Stopping for fruit cocktails at a makeshift hut on the lochside, the two of us aiming for silver knew we couldn't have much further to go.
The final leg passed a disco in the forest, with a funky dancing Elvis encouraging us up the hill, until at last, we could see the lights of Kirkton of Glenisla twinkling in the distance.
When we arrived at the village hall, we were greeted by crowds of cheering supporters, even though it was pitch dark and late.
Picking up our silver medals, Mike and I were very grateful that we didn't have to carry on to gold. Having done it before, Mike didn't feel the need and quite frankly, I didn't fancy the aftermath.
Despite the fact that she was abandoned by her Courier teammates, Jill was determined to carry on. Hooking up with a team of other gold go-getters, she did exactly that – finishing up around 8.30am on Sunday!
Before Mike and I were escorted back to our cars in Blairgowrie by the wonderful Catriona MacInnes, we went for a sports massage with the Athletes Angels. Indescribably amazing.
But what most people want to know is, how, after walking almost 37 miles, were the feet?
Actually, they weren't too bad! Yes, there were a couple of blisters, but realistically, who wouldn't have blisters after such an endurance test?
I'd taken on board Yomp ambassador Polly Murray's advice to get myself a good pair of walking boots and they proved to be worth their weight in gold.
They were comfy every step of the way, even more so after a couple of sock changes.
I took it easy on Sunday, walking the dog at a very slow pace and for not much time at all. A cross training session attempted on Tuesday was utterly pathetic – a complete waste of time. Rest and recovery is all part of the process, so it's worth bearing that in mind.
For anyone thinking about doing the Yomp next year – go for it! This year's event raised £400,000 for ABF The Soldiers' Charity, funds which make a real difference to the lives of Service people and their families in Scotland and across the UK.
The date for 2016 is June 11 and you can sign up now at www.soldierscharity.org/events/cateran-yomp/
See you next year!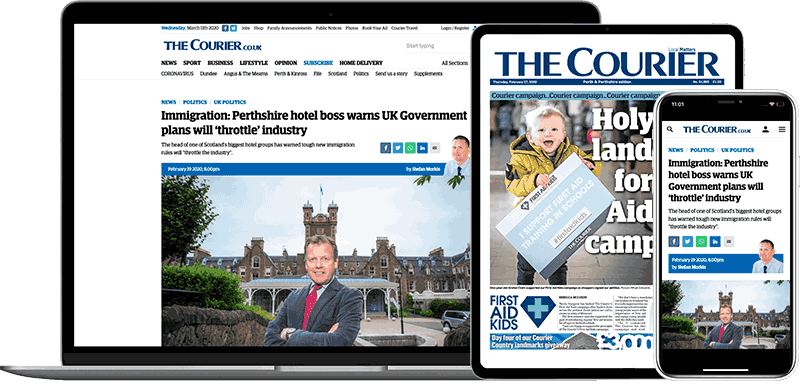 Help support quality local journalism … become a digital subscriber to The Courier
For as little as £5.99 a month you can access all of our content, including Premium articles.
Subscribe