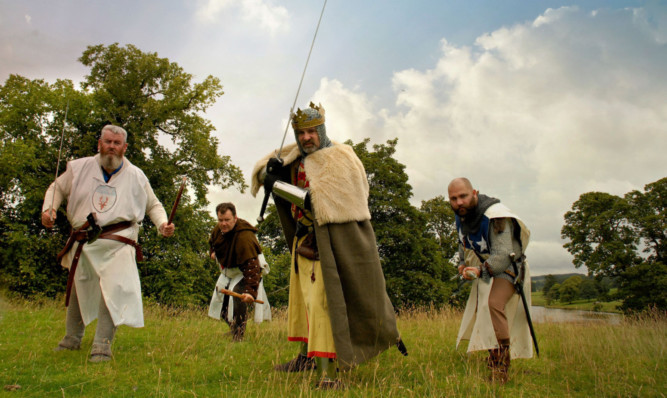 Scone Palace will bring history to life this Sunday to celebrate the life of King Robert the Bruce.
Visitors will take a journey back in time with a day of learning and fun-filled events to celebrate the history and heritage of one of Scotland's most famous kings.
Robert the Bruce was King of Scots from 1306 until his death in 1329 and led Scotland during the first of the Wars of Scottish Independence against England.
His most famous victory came at the Battle of Bannockburn in June 1314 when he defeated a much larger English army under Edward II, confirming the re-establishment of an independent Scottish monarchy.
Sunday's event will include historical re-enactments of the King's coronation, battle re-enactments and axe throwing demonstrations for both adults and children.
It will be hosted by the Strathleven Artizans, a Scottish group dedicated to promoting King Robert the Bruce and his historical links to the area.
They will be dressed in traditional costumes and chainmail for visitors to see how this Scottish king, who was crowned at Scone Palace in 1306, and his men would have dressed centuries ago.
There will also be a replica of the king's sword and visitors, particularly historical re-enactment enthusiasts, are encouraged to come along in their own costumes too.
A hand-crafted replica of King Robert the Bruce's throne, created by the Strathleven Artizans in partnership with Historic Scotland, will also be on display.
There will be re-enactments of Robert being crowned at 1pm and 3pm.
Children can join in with a Bling Your Sword workshop where they can decorate and personalise their own toy swords.
Birds of prey from Raptor World will be on display throughout the day with a flying demonstration at 2.30pm.
Sales and events manager at Scone Palace, Heather McArthur said: "This Sunday is set to be a fascinating and action-filled day for all the family."
For more information visit www.scone-palace.co.uk.