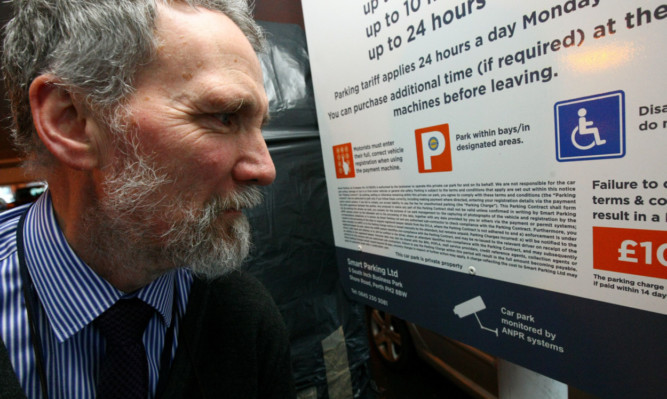 Operators of a Perth city centre car park are under mounting pressure to declare an amnesty on all penalties issued since the introduction of a new pay and display system.
Politicians say they been inundated with complaints about the Kinnoull Street site, which unveiled a new payment set-up in February.
Scores of motorists who have been stung by £60 demands maintain that the new meters are overly complicated and claim many people are being charged unfairly.
MP Pete Wishart has called on operators Smart Parking to "shape up or ship out", while MSP Murdo Fraser revealed he had also received a penalty for using the site. The company accepted it had been issued as a result of "human error".
Now councillors are calling on the car park firm to write off the penalties issued and refund anyone who has paid.
"Car parking should be simple and straightforward, it shouldn't inundate the Citizens Advice Bureau with hundreds of complaints. It shouldn't spark a boycott of the facility," said city centre councillor Peter Barrett.
"Smart should announce an immediate amnesty of all penalties issued. They should refund anyone who has paid and they should sort out all the shortcomings at the current car park."
Councillor Lewis Simpson said that, given the volume of complaints, the council should reconsider using a level of the multi-storey facility for its staff.
A council spokeswoman said the allocation of several parking spaces, as part of its lease on Pullar House, was "separate to the private sector operation" of the car park.
She added: "We are aware that members of the public have experienced difficulties with the new payment system in the car park and parking charge notices, which have been introduced by the car park's private operator, Smart Parking.
"We would urge anyone with a query about this to contact Smart Parking directly or, alternatively, to contact the British Parking Association, which is the regulating body."
A Smart Parking spokesman has insisted there is nothing wrong with the new system, but said the firm was involved in talks with trading standards.
He refused to comment on calls for an amnesty.