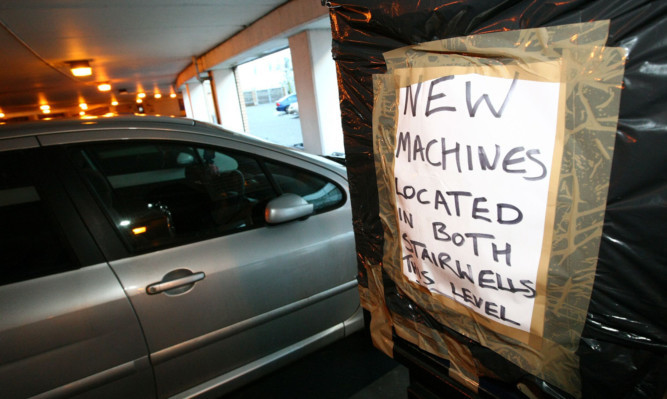 Under-fire car park bosses at the centre of a storm of complaints in Perth have insisted there is nothing wrong with their new pay and display scheme.
Trading standards officers have confirmed they are investigating scores of complaints about the new payment meters at the city's Kinnoull Street car park.
They have now entered into talks with the company which operates and manages the site, Smart Parking Ltd.
Drivers claim the new system is too complicated and believe people are being hit with £60 penalty notices unfairly.
Many have said they will boycott the site, sparking fears for the wider impact on Perth city centre's economy.
Prompted by scores of complaints from constituents, Perth and North Perthshire MP Pete Wishart has advised Smart Parking to "shape up or ship out" and Mid Scotland and Fife MSP Murdo Fraser branded the operators "jokers" after he received a penalty demand despite paying the correct amount and leaving within the allocated time.
The company has since conceded that he was wrongly charged due to "human error".
Mr Fraser said he and local councillor Alexander Stewart had received around 40 complaints from drivers since the system which asks users to input their vehicle registration went live in February.
A spokesman for Birmingham-based Smart Parking insisted the firm had done nothing wrong and said there has been no fall in the number of drivers using the car park since the change.
He continued: "In fact, in the last six weeks alone, over 35,000 motorists have successfully visited Kinnoull Street. We do understand that some people have raised concerns about the upgraded system, so we are in discussions with the trading standards team to see if we can address any of them."
He added: "As a business, we abide by the British Parking Association Code of Conduct and we operate a clear and fair appeals procedure."
The company refused to say whether it would now carry out a review of the new system or if improvements were planned.
Mr Fraser said: "I am a regular user of the car park myself and always take great care to enter my details correctly and pay the correct sum.
"Imagine my fury, then, to receive a £60 fine from these jokers at Smart Pay, a misnamed company if ever there were one."
He added: "The new smart pay system clearly has some kinks and, until these are worked out, city centre businesses will be hit as motorists boycott the area.
"As one of the biggest city centre car parks, Kinnoull Street has a responsibility to provide simple, affordable and hassle-free parking."
Mr Fraser and Mr Stewart have called for old pay and display meters to be returned until the new system is improved.
Mr Wishart added: "Right now Smart Parking is failing both the people and the businesses of Perth and, frankly, if they don't smarten up their act they should hand the business over to someone else who has the ability and the consumer relationships to deal with it better."