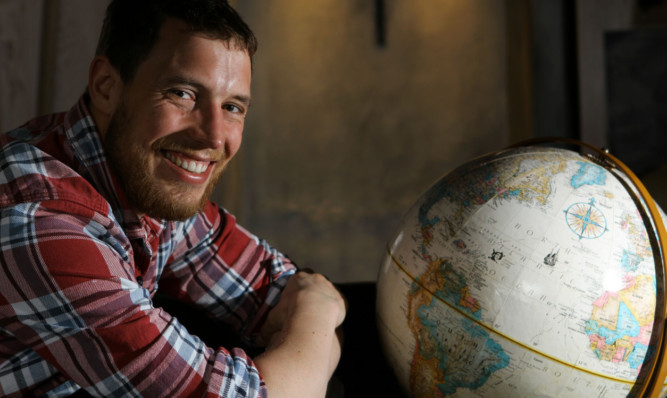 Tales of polar bears, frostbite and brave rescues in sub-zero temperatures captivated an audience of more than 100 people at Perth's annual Geography Day.
Young adventurer Benno Rawlinson regaled onlookers with details of his latest Arctic expedition. The 28-year-old, from Abernethy, returned to Scotland after a gruelling 620-mile trek along the east coast of Baffin Island, on the most northerly tip of Canada.
He delivered a presentation on his journey in the explorers' room of Fair Maid's House, the Royal Scottish Geographical Society's (RSGS) base in Perth.
It was part of a day of talks for Geography Day 2015, celebrating the diversity of geography and 130 years of the RSGS.
Mr Rawlinson and team-mates Jamie Anderson and Alex Hibbert had originally planned to become the first to cross the legendary North West Passage under their own steam.
But they were forced to change course after an early accident saw lead explorer Mr Hibbert knocked unconscious in temperatures of -32C.
After his return to Perthshire, Mr Rawlinson said he and Mr Anderson had decided to set off on their own after Mr Hibbert was forced to pull out.
"Baffin Island is still a long distance," he said. "It's longer than going from Land's End to John o' Groats, but we also had a 150-200-kilo sled to drag behind us with all our supplies."
Visitors to Fair Maid's House also heard from RSGS president and BBC presenter Professor Iain Stewart. He spoke about socio-political and psychological elements of earthquakes and other nature disasters.
Professor Michael Pacione led a presentation on the history of the society, while CEO Mike Robinson and author Jo Woolf spoke about some of the previous recipients of the group's Livingstone Medal.
Rare pieces from the society's collection were also on display, including a world map embroidered in silk and banknotes from the ill-fated Scottish Darien expedition.
Mr Robinson said: "This has been a fantastic opportunity for us to share how diverse RSGS is. We were able to showcase our varied and fascinating collection, tell some of the stories of the incredible people who have been involved with RSGS, advise pupils on course choices and generally inspire people about geography and the work that we do."