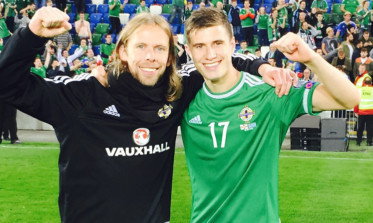 With Northern Ireland in raptures after the country reached its first major football finals since 1986, it's seen their manager, former Brechin City boss and ex-Dundee United/St Johnstone midfielder Michael O'Neill, hailed a hero.
But perhaps less well-recognised amongst the backroom staff who plotted Northern Ireland's route to European Championship qualification, is an ambitious young Fife man with a reputation that just keeps on growing.
Austin MacPhee, of Cupar, is well kent as a children's football coach, entrepreneur and football sports tour owner in Fife.
And yet former Forfar Athletic player MacPhee, who has found management success with Cupar Hearts, Cowdenbeath, and St Mirren, has played a key role in Northern Ireland's highly successful Euro 2016 qualifying campaign.
Building on his recruitment by the Mexican Football Federation as a video analyst ahead of Mexico's progress to the knockout stages at last summer's World Cup, MacPhee has been working as an assistant coach alongside manager Michael O'Neill and former Raith Rovers boss Jimmy Nicholl.
His responsibilities include analysing information on opponents, sitting down with the manager to develop a strategy, and then advising individual players on how to guard against the strengths of their opponents and exploit their weaknesses.
With his trademark long hair, he says it is a "compliment" to have been compared to a "hippy version of Ian Cathro". Cathro nurtured the likes of Ryan Gauld at Dundee United before becoming a young assistant manager at Valencia, and moving to become part of Steve McClaren's revolution at Newcastle United in the summer.
Yet MacPhee is fast gaining a 'midas-touch' reputation of his own.
"I think the success of our players is about completely buying into the idea that we all believe in our strategy, and doing it in such a way that all the players understand it,"MacPhee told The Courier, speaking from Northern Ireland's Euro 2016 camp in Helsinki.
"Everyone learns in different ways. What we've done in this campaign is prepare in every way we can. For me that gives a sense of calmness when the game starts. It's then over to the players, and the players know that."
As Northern Ireland made history against Finland on Sunday night, becoming the first fifth seeds to win a group, MacPhee did what he always does. He sat in the stand on his own for the first half. If something "radical" needed done he would go down to the dugout. But because pitch-side tends to be an "emotional place", manager O'Neill prefers MacPhee to remain isolated so that he can come down the dugout for the second half with a "clear head".
"That's Michael's design,"MacPhee said. "He's a very thoughtful manager and very good at understanding what people are good at. He doesn't always agree with me, and won't always do what I suggest, but he'll listen!"
MacPhee said Northern Ireland's success "hadn't really sunk in". He was disappointed that Scotland failed to qualify, but was proud with what had been accomplished with Northern Ireland with relatively small resource.
Now aged 35, Strathkinness-based MacPhee, who has a psychology degree and studied on a football scholarship in America during the 1990s, is well known in North East Fife where he runs Cupar-based sports travel firm AMsportstours.
He also oversees AMsoccer Club, a not-for-profit community football club, with over 500 players attending classes each week. It has been a reality in recent months that MacPhee might be coaching 10-year-olds at Wetlands in Cupar one night then coaching the Northern Ireland squad in Belfast a few nights later.
He says his Northern Ireland journey had only been possible because he can trust his AMsoccer staff to take care of the business when he's away.
After completing a scholarship at the University of North Carolina Wilmington, he moved to a third-tier club at Braila in Romania then moved to a fourth tier club in Nagoya, Japan, where he stayed for four years.
After succumbing to a knee-injury, he returned to Scotland and studied for his coaching badges before taking over as manager of Cupar Hearts aged 27. In his first season, he led them to the Scottish Amateur Cup final.
He was a member of the St Mirren management team which masterminded their 2013 win over Hearts in the League Cup final.
He would love to see AMsoccer Club develop into the "best non-professional football club in the world". He would rather "aim there and see where we end up rather than staying here and knowing where we are."
He currently has 15 local boys in the Scotland Performance School.
AMsoccer is also in partnership with the Fife Elite youth programme which links Raith Rovers, Dunfermline, Cowdenbeath and East Fife.
It's ambition that he will carry into the Euro 2016 finals. He adds: "I want to be in a group with the best teams in the world. I want us to beat them, but if we are going to get beat, let's get beat by the best!"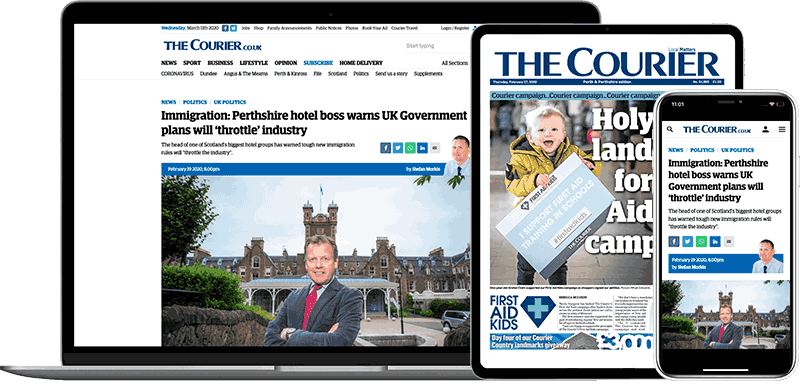 Help support quality local journalism … become a digital subscriber to The Courier
For as little as £5.99 a month you can access all of our content, including Premium articles.
Subscribe