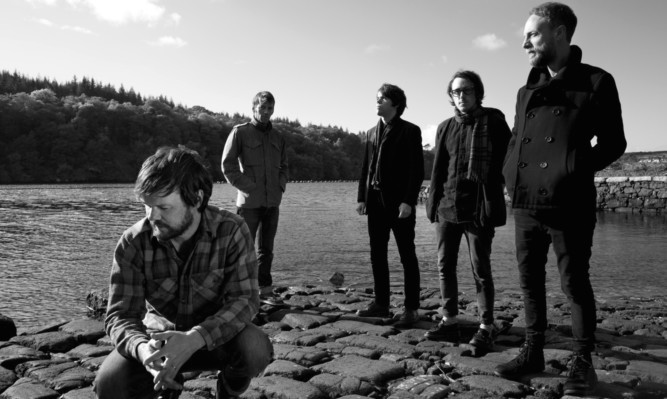 Indie rock stalwarts Idlewild have heaped praise on Perth's fledgling music scene.
Guitarist Rod Jones said the city is making a name for itself with a growing culture of breaking talent and live shows.
Speaking to The Courier ahead of the band's hotly anticipated new tour, which kicks off in Perth Concert Hall on November 27, Jones said he was impressed with a new buzz in the city while playing low-key solo shows during an Idlewild hiatus.
"There seems to be a growing music scene in Perth again, which is great," he said. "Perth is a city that's not generally associated with music. Obviously, Glasgow has its Barrowlands and there are loads of venues in Aberdeen and Edinburgh although famously not enough there but it's great that Perth is starting its own scene. That can only be a good thing."
He said up-and-coming acts were getting a launchpad at venues like The Green Room in Canal Crescent.
"It's been a long time since we've played Perth with Idlewild and we're really looking forward to coming back."
The group formed in Edinburgh in 1995 and were soon championed by the likes of Radio One DJ Steve Lamacq and the NME. After six albums, the band decided to take a break and explore other projects including solo work and guest spots on other people's records. Rod formed his own band, The Birthday Suit.
Two years ago, Idlewild reunited and released their critically acclaimed LP Everything Ever Written in February.
Following an extensive September tour, taking in Tokyo and America, the band are returning to home soil with a series of gigs at iconic Scottish venues.
"We had played some shows for the 10th anniversary of the 100 Broken Windows album and it really felt to us that we needed a break. We were becoming beholden to, not so much the band, but the entity of it all and to our back catalogue to some extent," he said.
"At that stage it felt that if we made another record it was just for the sake of it and not necessarily because we wanted to and that didn't feel right to us."
He said: "It was a great decision for us to take time off. This was all we'd ever done since we formed a band when we were 19.
"We always knew we would come back and at some point we decided we just all missed writing together."
Rod and singer Roddy Woomble met up and began recording some ideas, many of which ended up on the record.
"If felt like things were new and fresh again," said Rod. "We weren't thinking about how much more life there was in this, we were thinking about getting out there and making new records, which was a complete turnaround."
Rod has insisted it wasn't the pressures of fame that broke the band.
"Roddy summed it up best when he said: The spotlight moved onto us briefly and we weren't really ready for it.
"We were doing things we weren't really comfortable with, like stupid photoshoots."
He said it was never the band's ambition to play huge arenas, although they did when the supported the likes of REM and Pearl Jam.
"We've always been a band that has always been a bit out of line with the times," he said. "We are so comfortable where we are now, playing for our fans and making the music we want to make."