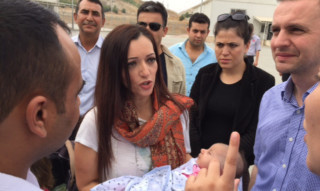 Surrounded by high fencing and barbed wire, hundreds of gleaming white shipping containers stretch to the horizon, bounded by the shimmering blue waters of the mighty Euphrates River on one side and the arid landscape of the Turkish highlands on the other. Once, these containers carried goods along the motorways of Europe.
Now they have been converted by the Turkish authorities to house thousands of families seeking refuge from the terror of Syria.
The Nizip Refugee Camp, near the Turkey-Syria border, holds around 5000 refugees and is one of six camps which use converted shipping containers to house each family, which comprise of around five to six people each.
Over half of those in the camp are children.
It is one of 25 mostly tented refugee camps in Turkey, which hold around 10% of Turkey's refugees. The cramped containers are just 21 square metres (7m x 3m) in size.
The camp has a market, library, a laundry and school facilities from nursery through to secondary school.
Each person in the camp receives 85TL per month to buy food and groceries.
The camp, and its neighbour Gaziantep, was visited this week by SNP MPs Stephen Gethins (North East Fife) and Tasmina Ahmed-Sheikh (Ochil and South Perthshire) to witness the enormous scale of the humanitarian efforts to support the 2.5 million Syrian refugees who have fled to Turkey in the last four years.
And in a week when Home Secretary Theresa May said the scale of immigration facing Britain was not in the national interest, the MPs say that Britain should be doing much more to help and to seek a long-term solution.
The Turkish Government expects the number of refugees in their country to double as the conflict continues to escalate.
Just this week the Turkish President Recep Tayyip Erdoan told European leaders that numbers could double as a consequence of military action. There are already millions displaced internally by the conflict, fleeing President Assad's forces on the one hand and ISIL on the other
Amongst those the MPs met at Nizip were Mohammed Tomuk and Salwa Yusuf, who came to the camp from northern Syria. They invited the MPs into their home, one of the converted shipping containers, to tell their story.
Mohammed was a pilot in the Syrian Air Force and fled the country with his family when he was asked to take part in bombing raids on civilian targets within his own country.
His wife, who was a writer, said:"We are not numbers. We are not animals. We want to be human beings, not numbers on a page. I am not a woman after this. I have no dreams. I just want to go home, but Da'esh are occupying my home now. My life stopped five years ago. I am like any mother, I want my children to have an education. I want my son to finish his studies. I want a normal life. I am a writer. But I haven't words anymore."
Another resident is Basil, from Damascus. After being stopped by traffic police near his home, he spent two years in prison, being tortured by Assad's security services. He is now unable to walk, and is confined to a wheelchair. He has no papers and therefore cannot seek asylum.
Mr Gethins, who is the Shadow SNP spokesperson for Europe, and sits on the Commons' powerful Foreign Affairs Committee, said it was striking the vast majority of people they met are desperate to return home to Syria but fear, because of hostilities, they will never get that chance. He also believes Britain should be accommodating many more than the 20,000 refugees it plans to take over five years.
Speaking to The Courier from Turkey, he said: "The UK has to do more to meet the challenges posed by the worst refugee crisis since the war. We rightly debate the issues surrounding the camp at Calais that holds 3,000. However, according to the UNHCR here, 5000 people crossed the border from Syria to Turkey in a single hour following ISIL's assault on the town of Kobane and 200,000 in total in a two week period. That gives us some perspective as to the scale of the challenge faced.
"We met with the Deputy Governor of Gaziantep Province, who was frustrated that although many delegations from across Europe have passed through this area, there is no evidence of a significant change in policy to better support these refugees or end the conflict.
"The magnitude of this issue is staggering, but the tragic stories we heard first hand from these brave men and women have also made a huge impact. Numbers are importantwe must remember too the human stories behind these figures."
Tasmina Ahmed-Sheikh said: "These people are desperate for peace and nothing more than the opportunity to return to rebuild their lives in Syria. The Turkish Government are undertaking a massive effort to take care of the basic needs of their ''guests'', which is how they are referred to here, but this should only be a temporary measure for the majority of the refugees. We need to work towards building a long term solution to this issue, rather than simply a short term military campaign."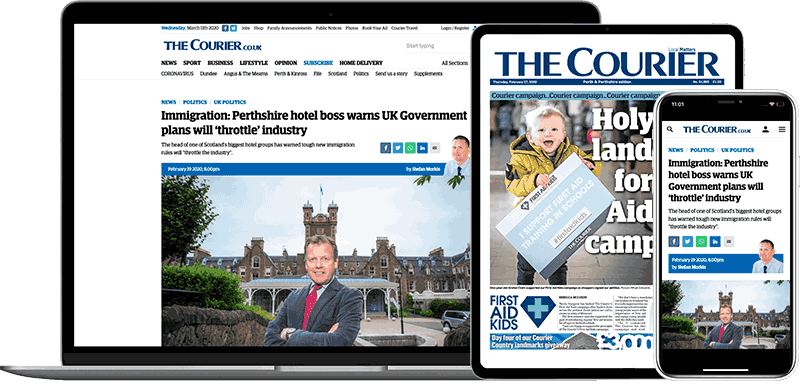 Help support quality local journalism … become a digital subscriber to The Courier
For as little as £5.99 a month you can access all of our content, including Premium articles.
Subscribe