 A Perthshire "professional" man has fallen victim to a callous bank phone scam in which he is understood to have lost "tens of thousands of pounds."
The Courier can reveal that the man, in his 60s, was "cold called" on Monday evening while at home.
The criminals then held the phone line open, allowing them to ask the resident to transfer money into another bank account. It is understood the man may have lost around £20,000.
"This man fell victim to a bogus bank fraud where he was told he would be passed to customer services only to find out this was a horrific story, whereby he has lost tens of thousands of pounds a substantial sum," Chief Inspector Ian Scott, area commander for Perth and Kinross, told The Courier.
"This is now being investigated by police."
He continued: "We have put the message out repeatedly that genuine banks won't ask people for their sort code and they won't ask for the likes of the last four digits of your bank account.
"We all keep getting these types of phone calls it's becoming a common occurrence. The advice we give is if anyone gets these kind of calls don't engage with the people at all.
"If you do want to contact your bank, do it in person and make sure you hear a dialling tone by contacting them direct. I don't want to seem critical as it's easy to see things in the cold light of day, but they catch you unaware and once they get a hook in, they are off and running."
Mr Scott feels this is the "changing nature" of modern day crime, with police having to deal with "more and more" of internet-led scams.
"As we can use DNA detections for many crimes, people can carry out these scams remotely from another country it can make it difficult," he added.
Mr Scott described the victim as "a professional," but stressed police didn't wish to reveal any more of his details.
In addition, police have reported a number of Perthshire residents being 'cold called' at their homes this week by criminals purporting to do work.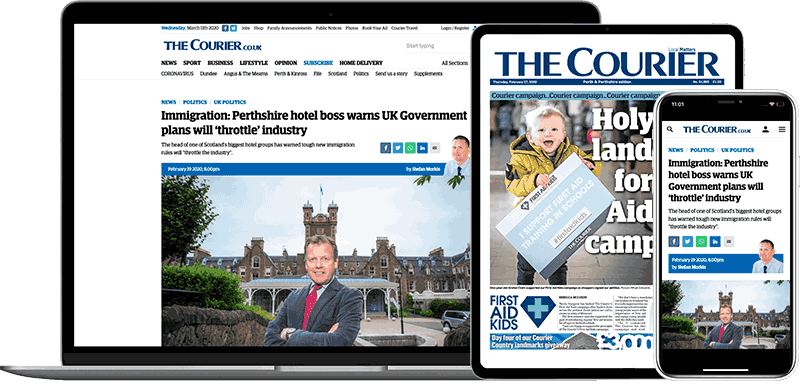 Help support quality local journalism … become a digital subscriber to The Courier
For as little as £5.99 a month you can access all of our content, including Premium articles.
Subscribe