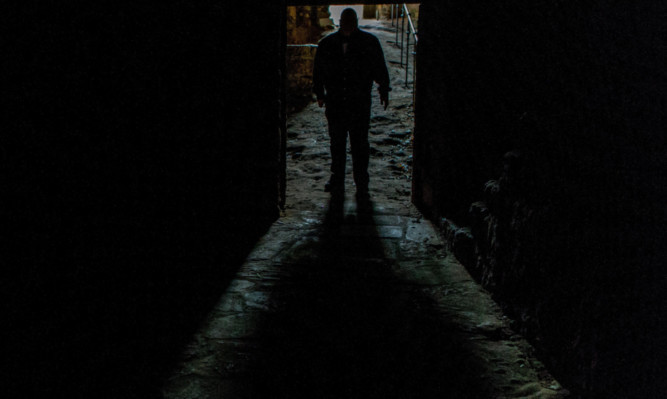 "There are ghosts and phantoms round us,
On the mountains, on the sea;
Some are cold and some are clammy.
Some are hot as hot can be.
They can creep, and crawl, and hover,
And can howl, and shriek, and wail,
But those who want to hear of them
Must read this little tale."
If the on-going popularity of ghost and witches tours is anything to go by, then the public's fascination with the ghoulish, disturbing and macabre show no signs of dying soon.
We live in a world of fictional horror ranging from Bram Stoker's Dracula to the works of best-selling author Stephen King and the modern-day vampire-esque Twilight saga.
And yet away from the images conjured up by Hollywood scriptwriters, it is tales with misty roots lost in in actual historical events which fascinate the public most especially at this time of year with the arrival of Hallowe'en.
Perhaps it is a desire to remain in touch with the departed a concept as old as humanity itself but parapsychologists argue that credible reports of ghostly visitations and other psychic phenomena have flourished through the ages.
Modern-day St Andrews is of course a peaceful place with its thriving university, golf and tourism industries.
But with its ancient spires bursting with ancient tales of terrifying witch-hunts, the ravages of the plague years and gruesome religious murders, perhaps it's no surprise that the town has one of the most thriving ghost tour industries in Scotland.
One woman who makes a living from the ghost industry is 62-year-old Cupar woman Shirley Young.
For 18 years, the former teacher of communication studies at Kirkcaldy Technical College (now Fife College) has run The Original St Andrews Witches Tour.
She used to help out Ed Sweeney, who established the business around 10 years earlier. She knew Ed through the college and was employed as a "jumper outer" to scare the tours. Then in 1997 she got the chance to take over herself, and has never looked back.
"I love the folklore and the legends,"she said.
"Taking people out and making them laugh appealed to me. My job is to give them a safe scare and make them laugh afterwards.
"Everyone loves it. I think it dates back to peoples' fear of the creaking on the stairs from childhood."
Shirley has always been fascinated by St Andrews history. Originally from Kennoway, her family's links with St Andrews date back at least 400 years.
It was her grandfather who used to tell her some of the old ghost stories as a girl. He would bring her through to see her Uncle Charlie at the old Paterson's fruit shop in Market Street, and during such trips, they would visit the ruins of the cathedral.
"I remember standing at the bottom of St Rule's Tower and my grandfather showing me a gravestone set in the bottom which he said was my five times removed great uncle Professor Watson. I remember looking up at the tower thinking he must have been an awfully big man!
"I also used to look around the old stones in the graveyard and felt so sad at some of them. The measles outbreak in the early 1800s for example saw a lot of children buried there. Then there were the graves from the Merlin shipping disaster of 1801 in the bottom part of the cemetery."
Most of her customers are tourists visiting the town or people on nights out. She once even had a wedding party but tends not to get many golfers who, she said, "often don't seem to realise there's a world beyond the golf course".
During her tours, Shirley dresses up as 'Mrs Linskill'. Her character is loosely based on the wife of W.T. Linskill, the legendary 19th century St Andrews Dean of Guild, who compiled a book of the town's best ghost stories before his death aged 74 in 1929. Her tour recounts many of those mythological tales. The Smothered Piper of the West Cliffs, for example, recounts the fabled piper who, for a dare, entered a cave beneath The Scores and played his pipes under the streets until suddenly going silent and never being heard of again. His heartbroken wife went in after him a year to the day later and also disappeared
The Lady of the Haunted Tower recounts the tale of a mummified body of a young girl found by workmen in the cathedral wall on Kirkhill during the 19th century. That part seems to be true. Folklore has it that anyone who sticks their hand through one of the slits at the base of the tower will shake hands with a ghost and come to an untimely demise!
Shirley's favourite tale is that of Maggie Aitken. Originally from Balwearie, near Kirkcaldy, the Kirk Session held her up as a so-called witch during the witch trials of 1595 and sentenced her to be burned at the stake at the Bow Butts in St Andrews.
Another story is that of Alison Peirson, from Boarhills, who tried to cure the Bishop of St Andrews of apparent syphilis. When the Kirk Session found out, the bishop accused her of being a witch at a time when harbouring a witch was also punishable by death. She fled, but was captured and burned at the stake in Edinburgh on May 28, 1598. She was tried by a jury which included three men from St Andrews.
Shirley, who has worked as a TV extra including a spell on Monarch of the Glen, added: "There's a kernel of truth in everything. There were stories for centuries that Norries Law near Largo Law in Fife was a secret burial place for a horde of Viking or Pictish treasure. Then when a team went to look for it in the 19th century, they actually found Viking-era treasure. They found striking brooches, hand pins and ear-rings. It was sold to a jewellers in Cupar if I'm not mistaken.
"There's all sorts of legends around St Andrews. The Blue Stane next to the pub in St Mary's Place, for example, was meant to have been thrown there by the devil!"
Geologists, on the other hand, would argue it was actually dumped there by a melting glacier at the end of the last ice age.
Another man cashing in on peoples' fascination with Fife's gruesome past is author and witch historian Lenny Low, 48, of Largo.
The former film-set builder, who supports East Fife FC, runs witches tours in and around Pittenweem and for the last decade has been campaigning for a lasting memorial to the witches of Fife who were persecuted during the infamous witch hunts.
The father-of-two, who owns a black dog called Lucifer, has written about them in three books – The Weem Witch, Largo's Untold Stories and out now St Andrews Untold Stories.
He is conscious that at this time of year, kids dress up in scary costumes and head off to liberate parties and houses of sugary substances to keep Scottish dentists working overtime for the foreseeable future.
But dressed as witches and warlocks, he believes the modern Americanised-trend for 'Trick or Treating' over traditional Scottish guising makes a "terrible parody "of the actual history behind such creatures accused in Scotland's dark past.
He said: "The figures are not precise, but there is hard evidence of 1400 'witches' being destroyed in Scotland alone.
"Destroyed as in the wretch accused of witchcraft, being burnt, tied to a pole with tar barrels and hastily collected forest debris to be used as combustibles.
"That made the entertainment for the day as Christian ministers turned into the foulest of animals, preaching Gods work done as the branded heretic burnssometimes alive!
"Like all religion, money is really its God!"he claimed. "Now with the witch burned to ashes, the victim's property as in land, house, boat or castle was divided into the church coffers and it also had the desired effect of guaranteeing a full standing only congregation at the next Sabbath!
"Its parishes flock were left terrified after witnessing what power the church held over them to kill at liberty anyone speaking or working against church principals."
Lenny said that from his home overlooking Largo Bay, it was a "sobering thought" that the trials of 110 witches took place from the Kirkcaldy coastline to St Andrews alone.
A letter from 1643 states that in a period of a few months no less than 40 witch burning pyres were seen in Fife alone.
He added: "I wrote a book about the Pittenweem witches' struggle, all 26 of them in my book
The Weem Witch. I thought they deserved a monument for their agonies-but Pittenweem community council thought otherwise."
One of the most infamous stories he concentrates on during his witches tour is the story of Janet Cornfoot.
In 1705, as a result of some wild stories told by a 16 year old boy, three people died and others were cruelly tortured. Cornfoot was one of them. She fled from her torturers only to return home and be re-captured. She was caught by a mob in Pittenweem on January 30 1705 and beaten and dragged by her heels to the seafront.
There she was swung from a rope tied between a ship and the shore, stoned, beaten severely, and finally crushed to death under a door piled high with rocks. To make absolutely certain that she was dead, a man drove his horse and cart over her body several times. Refused a Christian burial, her body was thrown into a communal grave at the spot known as "Witches Corner".
But this is just one of many stories which Lenny finds fascinating as do visitors on his spooky tours.
He added: "In Largo where I'm from, the poor head teacher Mr Thomas Wilson was in 1653 in trouble for not praying loud enough. Maggie Morgan in St Monans supposedly took the shape of a rabbit at will. She burned in 1651 for it.
"Alison Peirson in St Andrews used her herbal skills to treat the incurable Archbishop in 1588 and when cured was accused by him of using witchcraft to do so. She burned. The list of murdered victims and the reasons why reads like comedy.
"My favourite is the Orkney Witch Bessie Millar who sold wind to the fishing fleet captains, taking payment to fart into their hands. The lucky captains treasuring the sacred aroma in their hands as they carried it to the harbour to throw at the sails of his boat giving it the wind it needed.
"Witches were indeed real. Real as in branded and named to a crime many couldn't defend against.
" I leave your thoughts to a woman from Ayr in 1658. Janet Saers' last words were taken down by the parish clerk. She said: "Sir I am shortly to appear before the judge of all earth, and a lie may dam my soul to hell. I am clear of witchcraft for which I am presently to suffer, and so with a seeming willingness submitted myself to death. The people in this country are more set against witchcraft than any other wickedness. Once a person has that name and comes upon an assize court, it's hard to get off."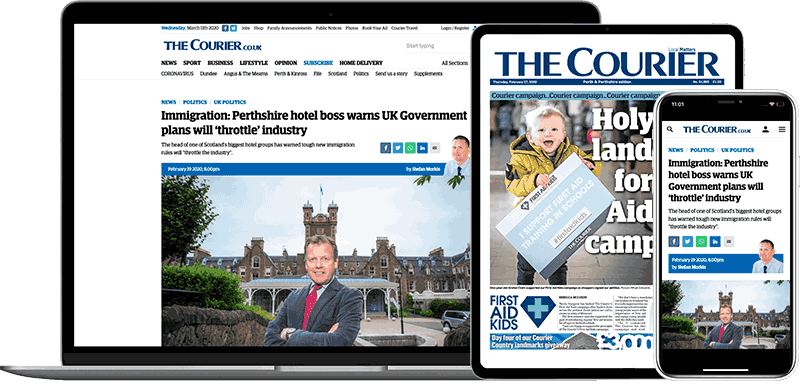 Help support quality local journalism … become a digital subscriber to The Courier
For as little as £5.99 a month you can access all of our content, including Premium articles.
Subscribe