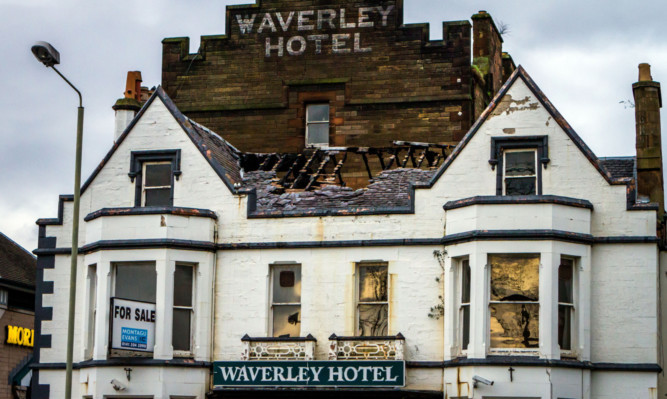 A structural report on a dilapidated former Perth hotel has revealed a catalogue of serious defects add to the case for demolition following a fire.
The survey found an array of issues with the Waverley Hotel in York Place, which suffered a fierce blaze in November that saw flames shoot through the roof and leave a gaping hole.
It took firefighters around four hours to contain the blaze and the Scottish Fire and Rescue Service later talked of the "dangers inside" the building due to its state of disrepair.
The structural assessment was carried out before the fire took place by Scott Bennett Associates on behalf of Bonhard Leasing.
Bonhard has lodged an application to knock down the hotel along with the Trinity Church of the Nazarene.
Businesswoman and philanthropist Ann Gloag, who is a member of the church, is keen to create a multi-use hall and gym in place of the hotel once famous for its high teas.
https://youtube.com/watch?v=JQUdtGiJ2hQ%3Frel%3D0
The structural survey concluded that demolition was the best option.
It brought to light a plethora of faults and emphasised what would need to be done in the event of a developer trying to save the crumbling building.
The report stated: "As a result of extensive repairs, removal of finishes will be significant.
"This, coupled with the significant underpinning of the building places significant doubt on the affordability of repair and renovation and consideration should therefore be given to demolition and a replacement build."
It was noted that cracking was seen to the front and side walls and movement was also evidenced by displacement of stone blocks, copes and lintels.
"The cracking is most significant around the right-most bay to the front elevation," it states.
Other serious defects were highlighted including roof finishes being in a poor condition and "nearing the end of their serviceable life".
And it revealed there were concerns over the condition of glazed roof lights and glass panes.
The structural report continued: "Internally, it was noted that several of the broken glass panes appeared to be precariously balanced overhead and presented a hazard.
"The gutters and downpipes were found to be in a poor condition, with damp staining observed to the adjacent walls."
The report also confirmed that the hotel has been subject to vandalism in recent years and there is evidence of damage to internal partitions, floor boards and carpets.
Such is the extent of the poor condition of the former hotel, Scott Bennett Associates recommend employing specialists to investigate the "possible deterioration" of the building.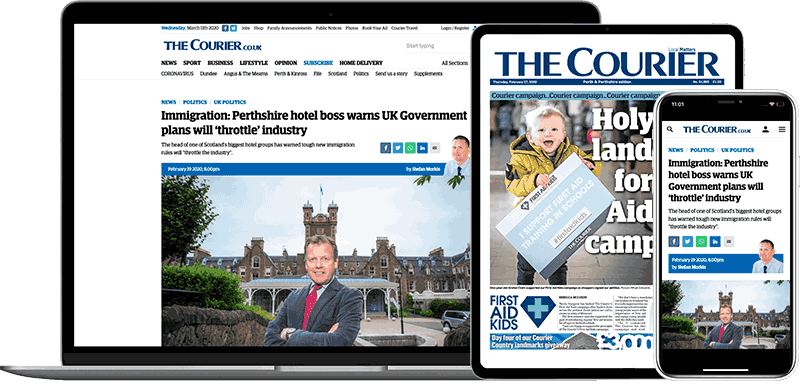 Help support quality local journalism … become a digital subscriber to The Courier
For as little as £5.99 a month you can access all of our content, including Premium articles.
Subscribe