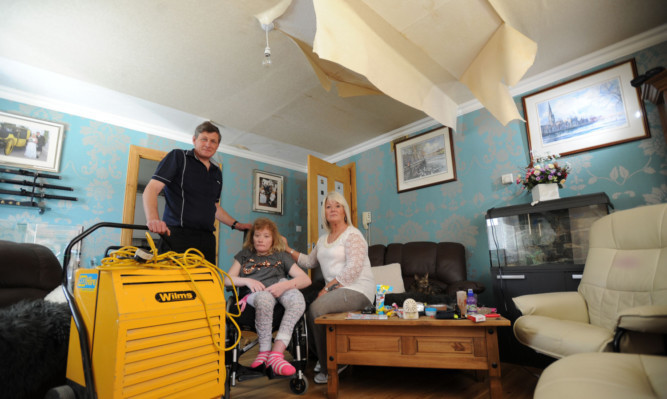 A family claims Perth and Kinross Council is forcing them to pay full rent to live in a condemned house damaged by flooding.
Stephen and Fiona McLaren's house in Perth was damaged when water from an upstairs flat poured in.
The couple live with 23-year-old daughter Claire who is wheelchair-bound as she suffers from spina bifida.
The family claims while others in the Milne Court block have been given alternative accommodation, they have been left to survive in the condemned flat.
Mr McLaren said: "The place is just an absolute mess. All the paper is hanging off the ceiling and the floors are buckled and needing to be pulled up. There was initially no electric in the house as it had been condemned.
"Everyone else has been put into different places. We're the only ones that are staying in the flats that were flooded. We are paying full rent for a place that's falling about our ears while everybody else is not paying any rent and have somewhere to stay.
"All we keep hearing from the council is they've got no place with disabled access. We are totally disgusted with the way they've treated us.
"If that was a fire that happened then Claire wouldn't be alive today. She was in the house herself and would be dead as she can't get out the house on her own.
"She had to go through to her bedroom away from where all the water was pouring through the ceiling. She was in a panic."
The family were initially moved to a nearby Premier Inn for eight nights, but had to leave last Tuesday as the hotel was fully booked.
Mr McLaren returned to the family home, while Fiona and Claire were placed in other accommodation.
Fiona and Claire returned to their home on Thursday. However, an electrical fault means only half of the house is powered.
Mrs McLaren said: "We feel like the council have washed their hands of us. This place is not habitable but we have to live in this for the next four to six weeks."
A Perth and Kinross Council spokesperson said that they could not comment on individual circumstances.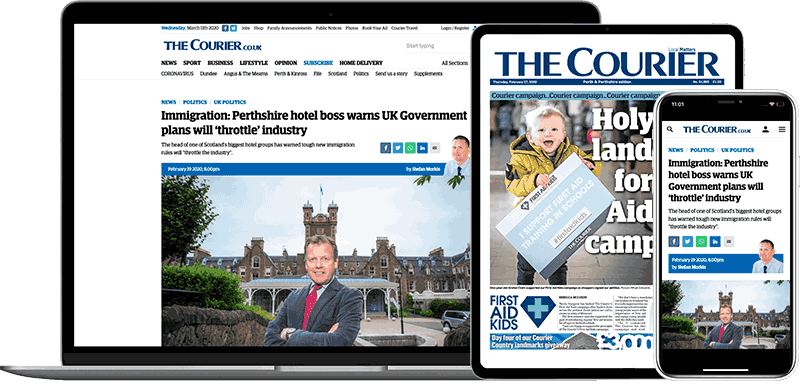 Help support quality local journalism … become a digital subscriber to The Courier
For as little as £5.99 a month you can access all of our content, including Premium articles.
Subscribe