 March 13 is the 20th anniversary of the worst firearms atrocity in UK history the morning in 1996 that a man with a gun walked into a primary school in a small Scottish town just after 9.30am, and proceeded to murder 16 children, along with the teacher who was trying to protect them.
It took roughly three minutes, after which the killer turned his gun on himself.
Now, the widower of the paediatrician responsible for the community care of the survivors of the Dunblane Primary School shootings is calling on Scotland to take a global lead with tighter gun insurance laws which he believes could reduce the risk of another Dunblane-style massacre.
In an exclusive interview with The Courier to mark the anniversary, renowned Auchterarder poet Robin Bell, a winner of the Sony Radio Academy Award for Best British Documentary who used to teach at the John Jay College of Criminal Justice in New York City, is calling on a politician "with guts" to trigger a campaign for mandatory third party gun insurance.
He and his late wife sounded out the possibility with then political leaders in the immediate aftermath of the shootings. They also successfully persuaded the British Medical Association to tighten procedures for doctors signing off on firearms certificates.
But apart from what he calls the "kneejerk reaction" from the then Scottish Secretary Michael Forsyth and other politicians to ban the ownership of handguns in Scotland, he believes more needs to be done to assess whether gun owners are responsible individuals and he believes the risk assessment approach by insurance companies would be the best way to achieve this.
Mr Bell, 71, said: "In my opinion the whole gun control debate has been stalled because whenever people start talking about gun control it becomes about posturing 'we have a right to own guns' versus 'all guns are dangerous and there shouldn't be any', so you get confrontation.
"Actually, what's needed is a focus not on the weapons but on the people owning them and whether they are responsible people.
"There needs to be genuine risk assessment when someone is building up a private arsenal.
"In my opinion, the perfect start would be the most boring solution possible and there's not much that's more boring than insurance.
"The crunch question is this if you have to have third party insurance for cars, why don't you need to have third party insurance for guns?
"Would anyone seriously advocate abolishing third party insurance for cars? No.
So why not third party insurance for firearms?
"Gun owners must already have third party insurance if they take part in a responsible shooting syndicate on a moor. Why should the same safety standard not apply everywhere else?
"I think this anniversary would be a very good time to trigger a debate."
Mr Bell was deeply affected by the Dunblane shootings through his late wife Mrs Eirwen Bengough Bell, who died from ovarian cancer almost two years ago aged just 55.
She worked as a community paediatrician in Dunblane when the tragedy occurred.
In the months afterwards, working with hospital consultants and other agencies, she treated both the physical and psychological effects of Thomas Hamilton's assault on the primary one gym class.
Her sensitive work with the Dunblane schoolchildren in the aftermath was praised by the then Scottish Secretary and by Lord Cullen, who led the inquiry.
Mr Bell said the 20th anniversary of the shootings was a time to look back with "sadness and respect".
But it was also a time to "look forward with hope" .
"I had so much respect for what Eirwen did after the shootings," he smiled.
"She worked so incredibly hard. On the day of the shootings the medical staff involved were fantastic. They were brilliant.
"Eirwen's role really was long term. Because you had kids who had survived the shootings and been released with injuries of one sort or another. You had families who had been affected physically and emotionally. Kids who hadn't themselves been injured but had friends who had been killed or injured and were obviously deeply distressed.
"It was just a dreadful time for the community, and what Eirwen did in a very quiet sensitive way was help people at an individual level and also work with so many different agencies."
Mr Bell said his wife was "absolutely scrupulous" about clinical confidence, and would never attach names when talking about her work.
However, right up to the end of her life, they could be walking down the street, whether it be in Dunblane, Crieff or Auchterarder, and she'd be stopped by someone who would say 'thank you for what you did'.
Mr Bell said the shootings would and should not ever be forgotten. But he was pleased that Dunblane had found other ways to "move on".
He added: "We very conscious that when something like that happens in the community, particularly a small community, that tends to be the way the community is defined to the outside world, and that can cast a dark shadow for a long time.
"So one thing that has been wonderful for Dunblane is the Murrays – Andy and Jamie! They were, of course, at the school at the time and she was the paediatrician. But their tennis success has given the town a different reputation to the outside world.
"If you compare Dunblane with Hungerford which experienced something similar (when Michael Ryan fatally shot 16 people in August 1987), when you say Hungerford you still think of it in terms of mass shooting. Not Dunblane! You think Andy Murray and Jamie Murray!"
Alexander Stoddart is director of the Dunkeld-based Scottish Association of Country Sports, Scotland's largest shooting organisation.
Whilst he respects Mr Bell's views about third party gun insurance, he does not think it is necessary as firearm licensing has "come a long way" since 1996.
Describing Police Scotland as "very proactive" and "well ahead of every other force in the UK in terms of looking at its procedures, policies and licensing," Mr Stoddart said: "Licensing now is very strict. If there is any evidence of a criminal record even something minor someone has done as a kid the chances are that will preclude you from having a certificate in future. It is actually difficult to get a certificate but it is far easier to lose one that you have.
"It is clear to us that Thomas Hamilton, in the current context, would never ever have had a certificate. He would also never ever have been allowed to work with kids. It just wouldn't have happened."
Mr Stoddart said the police no longer saw gun licences as "a paper shuffling exercise like giving out a fishing licence". Applicants were now looked at in "intimate detail" both at a national security level and in terms of local police intelligence.
He added: "It should also be remembered that very few licensed shooters come to the attention of police. We are statistically the most law abiding segment of the population. That is a fact.
"We take our collective responsibility to public safety extremely seriously."
The Scottish Government also maintains that it now has some of the most robust gun licensing legislation in the world, with tougher controls to follow later in the year.
A Scottish Government spokesperson said: "Most firearms legislation is reserved and Scottish Ministers have no power to introduce mandatory insurance requirements for gun owners. We believe that current firearms legislation is complex, difficult to understand and overdue for reform and we have been pressing for full devolution of firearms powers to Scotland.
"Excellent progress has been made to tackle the scourge of crime involving firearms in Scotland, with the most recent figures showing offences in 2013/14 at the second lowest level since records began.
"There is no doubt that our police have played a significant part in getting guns off our streets, through excellent detection, education and prevention work and continuing to make Scotland's communities safer places.
"We have also recently passed legislation which means for the first time that, as of December 31 this year, people will require a firearms certificate to own or use an air gun."
Damien Green, UK Minister of State for Policing and Criminal Justice, has also defended Britain's gun laws.
He said there are now just over 170,000 firearms licences and around 620,000 shotgun licences in Britain.
He said: "The vast majority of these licence holders will quite legitimately and responsibly use their firearms for work and leisure pursuits. It is only in an extremely small minority of cases that legally held firearms are misused. However the results can be devastating both for the immediate families and communities around. I believe that the ownership of any firearm is a privilege and not a right, and that public safety must be paramount.
"Within Great Britain, we have one of the most robust firearms licensing systems in the world with specially trained officers assessing the suitability of potential firearm and shotgun certificate holders on a case-by-case basis."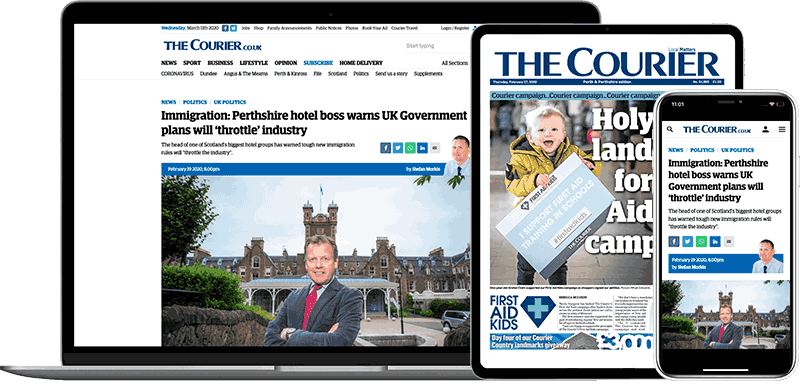 Help support quality local journalism … become a digital subscriber to The Courier
For as little as £5.99 a month you can access all of our content, including Premium articles.
Subscribe