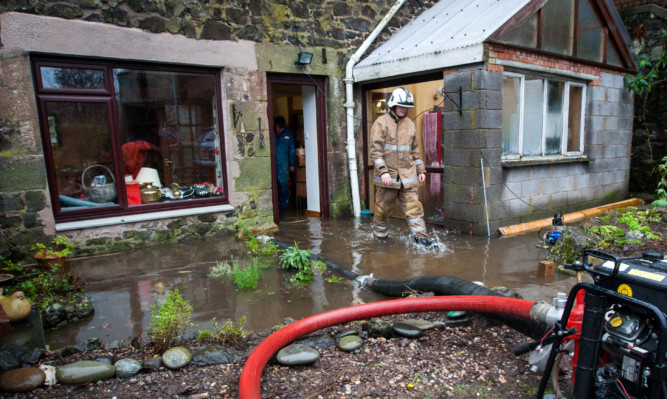 Residents in the Ochil Hills area got a rude awakening when the River Farg bursts its banks and flooded several homes and left parts of the M90 underwater.
Storm Desmond flood warnings are in place across much of the country and at least three properties at Glenfarg were badly hit in the early hours of this morning.
Neighbours were alerted at 3am when one household found their ground floor filled with water.
The Corcoran family found their basement kitchen and other downstairs rooms under four inches of water at 9am.
Fire crews were on the scene by 9.30am and pumped out most of the flood.
Tim Corcoran said the house had been deluged by the nearby river three times in the past 10 years.
"I'm sure this must be preventable," he said. "In this day and age, there must be something that can be done to stop this happening."
The family are now counting the cost of the damage, which has destroyed carpets.
The M90, about half a mile from Glenfarg, was shut after it flooded earlier this morning. Many cars were left submerged.
Follow our live weather updates here.