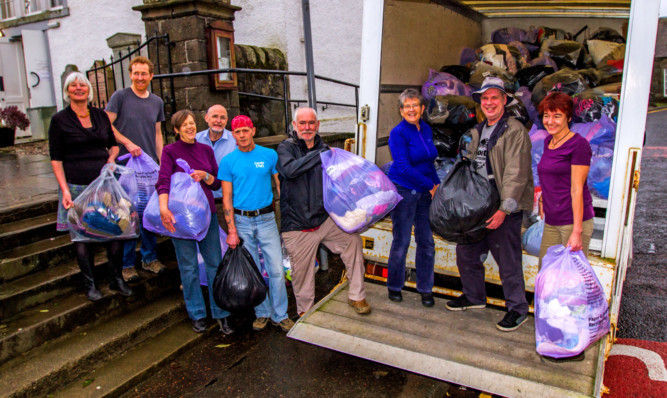 Refugees facing a bitterly cold winter in Greece and Serbia's no man's land will feel a little extra warmth this Christmas thanks to caring Comrie.
The people of Strathearn took the opportunity to directly help families just like them, thousands of miles away, at a pre-Christmas event dedicated to collecting donations of warm clothing.
Residents donated essential winter items, including coats, fleeces, thermals and shoes, in all sizes from babies and young children to adults.
The collection was organised by Comrie Cares, which is a grassroots organisation established by residents to respond to crises and provide support where needed.
The event took place in the White Church on Saturday and the effort filled nearly three Luton vans with much needed goods.
Coordinator for Comrie Cares, Libby Urquhart, said: "People across the world have been shocked and moved by the plight of refugees which came to full light in the media this year, and closer to home the level of compassion and a desire to help shown by the residents of Comrie and beyond has been overwhelming.
"Watching distressing media images can make us feel quite small and powerless. However, by something as simple as clearing out some outgrown or unused winter clothes just before Christmas, ordinary people can make a real, practical difference.
"A child's old winter coat, for example, could help a child thousands of miles away survive the winter in a refugee camp."
Comrie Cares, which includes the grassroots group Comrie Solidarity with Refugees, has linked up with Glasgow the Caring City which is collating emergency winter collections from across Scotland for transportation from Glasgow to Europe in early January.
Clothing will help keep people warm in the tough winter conditions at refugee camps, and will be particularly important for protecting the most vulnerable, including the old and the very young.
Libby said: "It is incredibly heartening that in spite of all the problems in the world, this crisis has unlocked a huge show of compassion and the best of human nature here in our little village.
"The response has exceeded all expectations and we have been overwhelmed by the generosity of the people of Comrie and the surrounding area. A big thank you and a merry Christmas to all."
Comrie Cares wanted to thank Comrie Development Trust (CDT) for their practical support and also The White Church.