 A highly controversial Perthshire quarry could be shut down after Scottish ministers rejected a bid to extend its lifespan.
Construction giant Cemex UK wanted work to continue at its Glendevon site in the Ochil Hills until 2035.
Permission to extract sand and gravel from the 74-acre site was first granted in the 1960s but so far no extractions have been carried out.
Last year the company's application for extra time to progress production was thrown out by councillors after receiving more than 100 objections from residents and community councils.
The scheme was also opposed by neighbouring Clackmannanshire Council.
Now the Scottish Government has rejected an appeal by Cemex, which called for the local authority's decision to be overturned.
The firm had insisted the development would be a boost for the area and complained that it had taken Perth and Kinross Council four years to determine the application. A spokesman said the delay had caused uncertainty.
However, the Scottish Government's Directorate for Planning and Environmental Appeals has found that the council did not act unreasonably and also rejected Cemex's claim for expenses.
Appeals reporter Allison Coard, who investigated the case, said: "I consider the introduction of 60 HGV movements a day, the audible operation of plant and machinery and the visual impact of the excavation and operation would cumulatively and detrimentally alter the quality of the visitor experience."
Watchdog groups at Auchterarder, Muckhart, Dollar and Fossoway had called for the project to be scrapped. Opponents argued it could pose a road safety risk and would have a detrimental impact on the Glenquey Moss area, which attracts around 9,000 people a year.
Malcolm Best from the Friends of Ochil Group said the council had been right to reject Cemex's proposal.
Local MSP Liz Smith said: "Local residents will welcome the decision by the Scottish Government to reject the appeal for an extension to the life of the quarry.
"On too many occasions local decisions taken by local councils have been overruled by Scottish ministers undermining local democracy."
No one from Cemex was available for comment.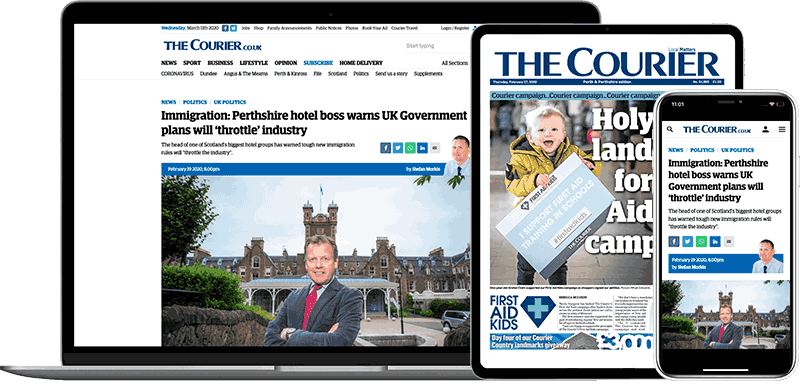 Help support quality local journalism … become a digital subscriber to The Courier
For as little as £5.99 a month you can access all of our content, including Premium articles.
Subscribe