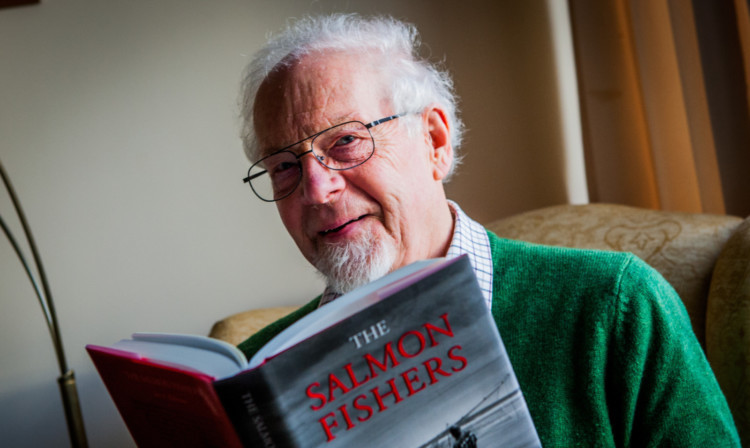 A retired Perth lecturer's latest book is a timely addition to the long-running debate over the impact of salmon netting on Scotland's fish stocks.
The fruit of 10 years of research and writing, the Salmon Fishers by Iain Robertson has just been published to great acclaim from those interested in the debate.
When First Minister Alex Salmond opened the fishing season on the river Tay last month, he was besieged with calls from anglers to curb salmon netting to protect stocks.
A former economics lecturer at Perth College, Mr Robertson's interest in the subject was formed by his experiences as a young man on the Tay.
"When I was a student in the 1970s I worked with the Tay Salmon Fisheries and became interested," the 78-year-old said.
For hundreds of years the netting of salmon was big business, with railway wagon-loads of fish heading down from Perth to Billingsgate market in London.
That netting operation ceased after an agreement, but various others remain around Scotland, notably Usan, south of Montrose. Mr Robertson is adamant he is not biased in the debate.
"I am not an angler and not a netsman, I am not a member of either camp," he said.
"I try to be dispassionate but I think the netsmen have a case that has been obliterated by the large number of anglers who have a louder voice. I would just like people to be better informed."
Mr Robertson's research took him to archives from Wick to Berwick-upon-Tweed.
Of particular help was the extensive archive associated with the now defunct firm of Joseph Johnston and Sons, of Montrose.
His book is the first history of Scottish netting, and the Salmon Fishers shows the extent to which the fisheries became a way of life, integral and essential to the wellbeing of communities around the Scottish coasts.
The book also deals with the Atlantic salmon as an example of a common resource subject to exploitation by competing interests.
The Salmon Fishers is published by Medlar Press, priced £30.