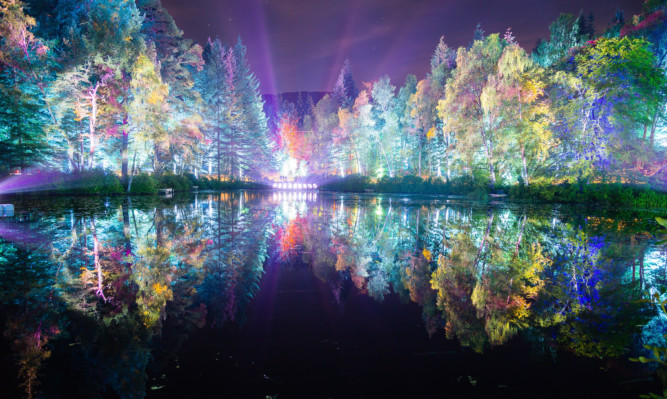 More than 50,000 tickets have been sold for this year's Enchanted Forest sound and light show, beating last year's record.
The event, at Faskally Wood, Pitlochry, has been attracting visitors from around the world since it opened on October 1.
Organisers predicted that more than 55,000 visitors will flock to Highland Perthshire this autumn to see the event and the latest box office figures puts them on track to exceed that figure by the time the show closes on Sunday November 1.
Graham Brown, chairman of the Enchanted Forest Community Trust, said: "The demand for tickets this year has been stronger than ever and I'm delighted that the event has set a new box office record, testimony to its continued popularity and quality delivery.
"There are still tickets remaining for the final two weeks but we really must urge visitors to plan ahead and book early, as these are being snapped up at a very quick pace."
The Enchanted Forest will also feature in this Sunday's autumn colours episode of Countryfile, which will be broadcast at 6.15pm on BBC1.
Mid Scotland and Fife MSP Murdo Fraser welcomed the record ticket sales, saying: "The Enchanted Forest is a tremendous draw for the area, particularly as it is held in the period between summer and Christmas where visitor numbers are traditionally lower than normal.
"To have sold nearly 50,000 tickets thus far underlines what an important event this is for the Highland Perthshire and Pitlochry economies and I am sure local businesses will welcome these strong sales numbers."