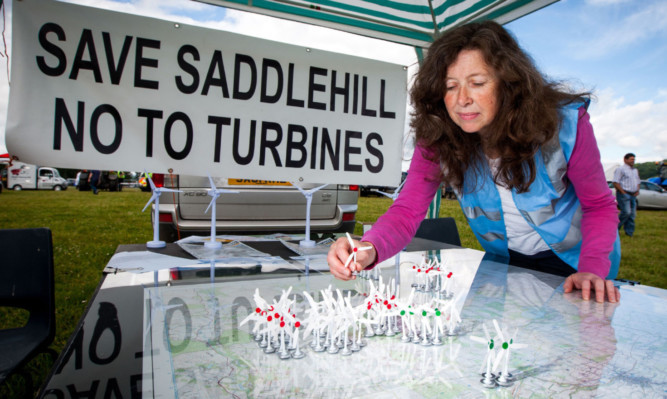 A windfarm protester has unveiled her latest weapon in the fight against turbine developments across rural Scotland.
Jill Hobhouse has produced a 3D map detailing all 74 future and present turbines across the Perthshire patch.
The Alyth businesswoman, who is battling to block plans for 14 masts at Saddle Hill, Glen Isla, said there were 17 turbines within a five-mile radius of her home, with a further 11 consented and another 46 proposed.
"I do hope that when people see the map and just how many turbines could be built in such a small area they too will join the campaign to save the Scottish rural landscape from ill-suited industrialisation," she said.
Jill, who runs a self-catering holiday business, is one of around 100 objectors who are battling to block the proposed Saddle Hill development.
Project leaders want to install a series of 377ft turbines on land about three miles north-west of Kilry.
In her letter of objection, Jill said she was "increasingly alarmed" by the number of turbines popping up around the area.
She said: "A few years ago, I knew very little about industrial wind turbines and I didn't really have an opinion about them one way or the other."
That all changed when plans were lodged for the seven-turbine Bamff development, less than a mile from her home.
Jill said she went through a "very steep learning curve" before the project was eventually killed off by councillors.
"It's not that I am a Nimby Not In My Backyard but it turns out that the people who live in an area and thus understand and appreciate all the wildlife, economic benefits and constraints and day-to-day goings on, really are well placed to stand up for what is not only just, but what is fair for a local community and the landscape they inhabit."
She said: "Fighting against a windfarm meant lots of 'firsts' for me: My first letter of objection, the first meeting with my MSP, my first experience of a council development management committee, first time addressing a local authority meeting and first ever protest march."
She now finds herself in an ongoing campaign to, as she sees it, protect the rural landscape, wildlife and tourism industry, as well as the wellbeing of friends, neighbours and relatives.
"It's like a gold rush. Industrial wind turbine developers have identified this area as easy prey and development after development has been proposed."
Jill said she was inspired to organise a stall at this weekend's Alyth Show by a guest at her cottage who had led a similar campaign against housing developments in his area.
"He explained the importance of raising awareness of local people," she said. "Hence my idea to create a map to show the huge extent of the threat from industrial wind turbines to the local area."
The map shows 74 turbines across the region, some more than 400ft high.
Jill added: "These turbines are all within relatively close proximity and would thus have a serious and negative cumulative effect on the landscape, the wildlife, the tourism industry and the people who live here."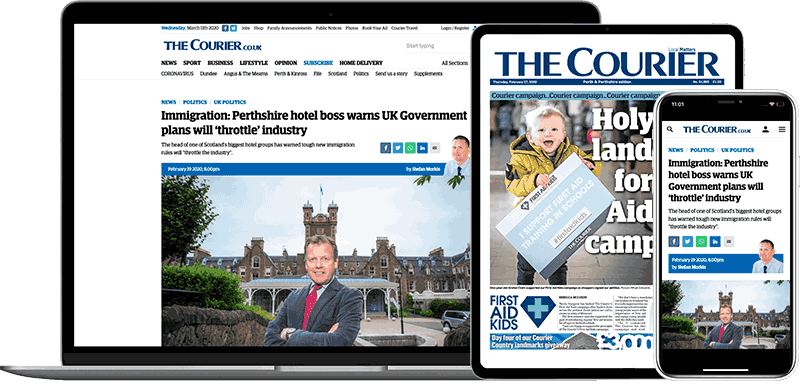 Help support quality local journalism … become a digital subscriber to The Courier
For as little as £5.99 a month you can access all of our content, including Premium articles.
Subscribe