 A boy racer who broke his back in a head-on collision after dangerously overtaking into oncoming traffic has been disqualified for 20 months.
Reece Armstrong, Slade Gardens, Kirriemuir, suffered a cracked vertebra when the crash happened on the A923 Muirhead to Coupar Angus road on May 9 last year.
At Perth Sheriff Court on Wednesday, Sheriff Fiona Tait heard that Armstrong has since undergone surgery to have a plate inserted in his back, which now restricts his movement and leisure activity.
The 19-year-old had been issued with an Asbo in relation to his driving before the incident occurred.
Armstrong was driving a red Ford Fiesta and at the time had several friends in his car, all of the ages of 16, 17 or 18.
He drove up behind a Vauxhall Corsa containing a woman and her nine-year-old daughter before pulling into the path of a Toyota Yaris.
Depute fiscal Tina Dickie said: "At about 11.30pm a witness was driving a Vauxhall Corsa at the locus. Her attention was drawn to the accused, who was driving his Fiesta.
"She noticed he quickly caught up with and was driving very close to the rear of her vehicle effectively tailgaiting.
"She then became aware of a Toyota Yaris which was being driven towards her on the opposite carriageway.
"She and her daughter noticed the Ford Fiesta suddenly swerve on to the opposing carriageway and begin to accelerate rapidly past them. She could see there was not enough time to complete this manoeuvre. She braked sharply…"
The driver of the oncoming vehicle had insufficient time to avoid a head-on collision and could only manage to quickly brake to reduce the impact.
The passenger of the Yaris suffered a broken sternum and needed five weeks off her work, while the driver suffered bruising.
Armstrong admitted driving dangerously on May 9 on the A923 at the junction with Pitcurby.
He pleaded guilty to driving too close to a car before pulling out and overtaking when it was unsafe to do so… causing a collision which resulted in damage to two vehicles and injury to two people.
Sheriff Tait also sentenced Armstrong to complete 150 hours of unpaid work as part of a community payback order.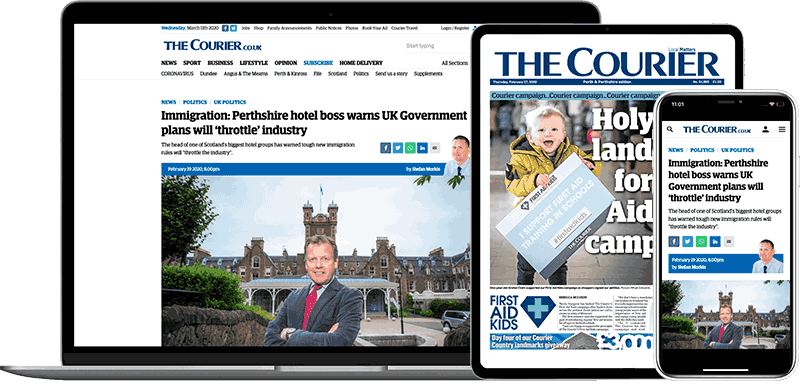 Help support quality local journalism … become a digital subscriber to The Courier
For as little as £5.99 a month you can access all of our content, including Premium articles.
Subscribe