A walk in the park nearly turned to tragedy as a beloved pet dog was swept into the Tay.
However, thanks to a passing lawyer who heroically came to the rescue, the black labrador was successfully reunited with her owner.
Tess was being walked at the North Inch in Perth by owner Elaine Paul, her daughter Charlotte and Charlotte's friend Micha, when the drama unfolded Sunday afternoon.
As she paddled in the shallows of the river the six-year-old dog was swept into the water.
It seemed certain Tess was heading for a watery grave but she managed to scramble on to an embankment.
Advocate Laurence Kennedy saw what was happening and leaped overrailings bounding the Tay to reach Tess.
He then kept her safe until the fireservice arrived.
He said: "I saw her go in the water and taken off by the current. I didn't think they were going to see her again and I thought 'I have to walk away, I can't watch this', but then she go on to the embankment.
"The tide was low enough so she got on to land an hour later and it wouldn't have been there.
"I went down to make sure she didn't swim off. First of all I tried to get a ladder from the hotel then I tried using one of the emergency ropes to get down.
"We tried to lift her out but she was too heavy and her collar kept coming loose."
Laurence was forced to stand in the freezing water until help arrived. Fire crews put Tess in a large holdall before hoisting her back on to land and into the arms of a relieved Elaine.
She said: "We were walking along and I turned to speak to the girls and she got swept away. It was too quick for it to register. It was quite scary because she was going further down but she
managed to get back to the embankment. She's going to be on the lead for the rest of the day.
"I'm very grateful to the firemen and to Laurence."
A spokesman for the Scottish Fire and Rescue Service said: "We received a call at 2.42pm to a dog which was down an embankment in shallow water under Perth Bridge.
"We rescued it, and an adult male, using a short extension ladder."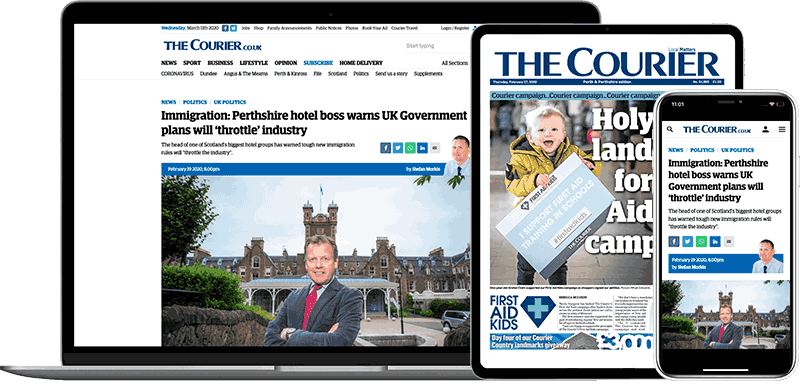 Help support quality local journalism … become a digital subscriber to The Courier
For as little as £5.99 a month you can access all of our content, including Premium articles.
Subscribe