Perthshire residents living near the A9 yesterday slammed £3 billion dualling plans stating they will "finish off a thriving business" and "ruin the heart" of three villages for generations to come.
The villagers contacted The Courier to express their opposition to Transport Scotland's proposals for dualling the section of the road between the Jubilee Bridge and Ballinluig and are asking for an alternative route.
They claim the new road will be built "within feet" of properties at Dowally, Guay and Kindallachan, resulting in Dowally being a "ghost town".
Robert Laird, of Dowally Farm, who employs 40 people at his contracting and farming business, said there is a "viable alternative" that would bring the new road to the east side of the village.
"I employ 40 full-time people, but there is no question that the current proposals would completely finish off my business," he said.
"All three of my premises will be completely destroyed by the dual carriageways or side roads.
"When alternative options are available, it seems totally unnecessary and very unfair for one business to bear the brunt of the whole project."
He continued: "I was absolutely horrified to see that the dualling plans show all of the proposed route options for the A9 will mean building on a local floodplain.
"In addition, the new road will plough straight through the best arable land.
"It will be positioned even further towards the river below, causing water levels to rise higher and rendering the adjacent land unusable for homes, my contracting business and my farms."
Brenda Bissett, 53, of Dowally, claimed the dualling will result in a new road being built "within feet" of houses.
"I am so concerned about the main dualling, which will devalue properties in Dowally I don't see why Transport Scotland can't build a road that would by-pass the villages," she said.
"These roads will ruin the heart of these villages for generations to come.
"My husband and I should be looking forward to retirement in our lovely village but instead we are living with uncertainty and stress.
"If the new road goes ahead we are going to be only a few metres from the dual carriageway.
"I will be looking out on to ugly noise prevention embankments and a spaghetti junction of roads.
"There is absolutely no guarantee of compensation to allow us to move away and start again, but we simply could not stay here.
"Our quality of life will definitely be compromised and we are not the only ones.
"If the road goes ahead Dowally will be a ghost town. I simply don't understand why the alternative route, which passes around the back of the both villages, is not being taken forward."
Merle Boyd, of Savills compulsory purchase team, who are acting for a number of property owners near the A9 scheme, said it is important for affected parties to "engage" with Transport Scotland.
A Transport Scotland spokesperson said they had been asked to look at an alternative route, but stressed that "no final decisions" have been made.
To contact the A9 working group, email dunkelda9workinggroup@gmail.com.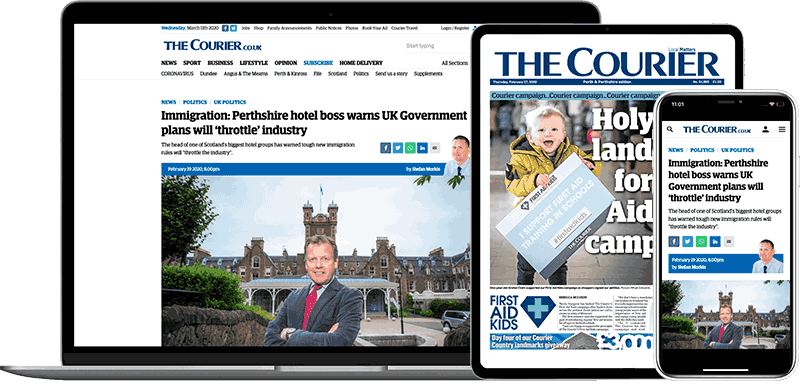 Help support quality local journalism … become a digital subscriber to The Courier
For as little as £5.99 a month you can access all of our content, including Premium articles.
Subscribe