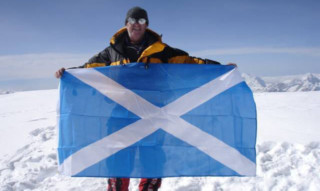 A climber from Kinross is stranded on Everest amidst the devastation across Nepal.
James Grieve, 52, originally from Kennoway, Fife, is trapped with a party of four others from the UK who were on a charity climb.
Speaking in a satellite phone call to The Sun, he said: "Snow and ice was coming down as the glacier shook. We were lucky to survive.
"We all ran out of our tents. There's around 12 people dead and 50 injured.
"There's meant to be a storm coming. We are cut off from base camp.
"There's no way down.
"The glaciers have been moved around and there are normally ladders.
"The route we used is no longer usable."
Mr Grieve's partner, Shirley McGhie, said: "They had to put their ice picks in the snow and just kind of hold on and hope for the best.
"I don't think he's had time to process how life-threatening it could have been."
Efforst to help those stuck on Everest will resume today after an avalanche caused by a massive earthquake.
Climbers have been cut off from the mountain's base camp and remain on various routes leading to the top of the world's highest peak.
The base camp itself was a scene of devastation after snow and rocks smashed through it.
Officials at Nepal's mountaineering department said at least 10 people died in the avalanche and an unknown number remained missing or injured.
Among the stranded Britons was Dan Mazur, a Summit Climb expedition leader from Bristol, who tweeted: "A massive earthquake just hit Everest. Basecamp has been severely damaged.
"Our team is caught in camp 1. Please pray for everyone."
An hour later he said: "Aftershock! Everest team is in camp 1, hanging on. Icefall route destroyed."
That was followed by a post linking to the website EverestTibetNews.com which read: "WE FELT THE EARTHQUAKE ON THE NORTH SIDE BUT HAVE NO DAMAGE AND ALL ARE SAFE."
Alex Schneider and Sam Chappatte, a British couple in the same party who are climbing the mountain for charity, tweeted: "We are ok, all the group. Shaken at camp 1."
The magnitude 7.8 quake struck at around noon Saturday about 50 miles north west of Nepal's capital Kathmandu.
Before leaving, adventure-loving Mr Grieve told The Courier how the expedition to Everest was a lifelong dream.
After completing two years of training last month, he said: "As a boy growing up in Kennoway I always wanted to climb Everest.
"Lack of money or starting other sports got in the way of that dream but it is finally about to happen."
He was raising funds for Help for Heroes and Children 1st.
He said: "I want to raise funds for CHILDREN 1ST, as it is a most worthwhile cause," he said.
"I know someone who endured a traumatic childhood and the support of this organisation would have helped them a lot.
"Raising funds for this charity will help the kids going through tough times today and tomorrow."
An experienced climber who completed a hike up the world's sixth-highest mountain Cho Oyu on the border between Tibet and China in 2013, James also takes part in a variety of sports including motocross, karate and scuba-diving.